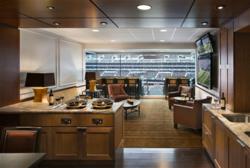 " The Luxury Suite was fantastic. We had a Great Time" - Jon (Panama City, FL)
San Diego, CA (PRWEB) April 18, 2013
Ultimate Sports Adventures, a leading provider of high-end ticket packages to major sporting events, has limited availability of private luxury suites / skyboxes for the February 2nd Super Bowl game at Metlife Stadium in East Rutherford, NJ.
Suites come in various sizes in different arenas. Generally the suites offer unobstructed viewing of the action with plush theatre style seats, multiple flat screen TVs, a social area, and offer premium food & beverages within the suite.
Private Suites for the Super Bowl are starting at $625,000 and going on up over $825,000 depending on location, # of tickets and add-ons.
Ultimate Sports Adventures is considered an industry leader in providing VIP Experiences at Major Sporting Events. To reserve a Luxury Suite / Skybox or a Ticket Package, call Ultimate Sports Adventures toll free at 1-877-225-2155 or 619-270-2276.
There is no sold-out game! We have your tickets.
About Ultimate Sports Adventures Inc.
Founded in 2006, Ultimate Sports Adventures was started by Bruce Johnson, whose vision of offering an expanded menu of event tickets and activity experiences, would offer something for everybody. Mr. Johnson has over 15 years experience in this field. Ultimate Sports Adventures has grown annually. The company is always looking for new events and activities to offer to its clientele.