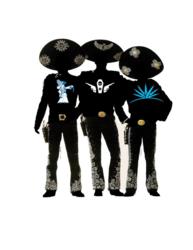 FHHA Presents the 1st Annual Federal Hill Fiesta for Cinco de Mayo
Baltimore, Maryland (PRWEB) April 18, 2013
The 1st Annual Federal Hill Fiesta will be held on Sunday May 5th. The event will start at 11 a.m. with family friendly activities including face painting, salsa dancing, a master tequila tasting and a mariachi band for all to enjoy. The tequila training will consist of a tequila history lesson and explanation of tequila to gain a better knowledge of the spirit and tasting of five different tequilas from the Tres Generaciones portfolio.
Starting at 1 p.m. we will have seven bands performing live on stage including The Pressing Strings, Bond & Bentley, Grilled Lincolns and Hotbox, along with others. There will be plenty of fresh squeezed orange crushes, margaritas and cervezas, served along side fresh BBQ right out of the smoker for all to enjoy.
There will also be the 1st annual Baltimore Taco Eating Championship. Contestants will compete in a five minute battle royale, winner take all contest. Rules are simple the contestant who eats the most tacos in 5 minutes wins. The first place contestant will receive a $400 cash prize and a custom made taco trophy. The second place finisher will receive a bundle of FHHA gift cards.
In order to enter the contest you need to win one of the preliminary rounds, with the next one being held at Blue Agave at 2 pm on Sunday April 21st, and a final contest will be held at banditos on Thursday May 25th at 7 pm. Last Sunday the top contestant at No Way Jose's scarfed down nine tacos in only five minutes.
There is a limited capacity and the event is fully expected to sell out. This event will surely be a day to remember, purchase your tickets in advance on Bmore around town.