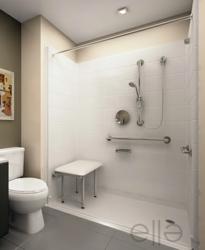 Now it's more affordable than ever to invest in peace of mind with walk in bathtubs or handicap shower stalls that are specially designed for the elderly and mobility impaired.
Denver, CO (PRWEB) April 16, 2013
An innovative supplier of senior bathtubs and handicap shower stalls announces no cost shipping on wheelchair accessible shower packages. This special offer extends to walk in bathtubs but is only available to customers that reside in the continental United States.
Aging Safely provides several uniquely developed specialty bathing products that are designed for people with limited mobility and the elderly. The handicap shower stalls offered come with the option of a .5" or 1.5" threshold. Depending upon what flooring material is used and the height required for a smooth transition upon entry, shoppers also have the option to add a wheelchair ramp that can adhere to the specialty wheelchair accessible shower system. Likewise, the walk in bathtubs that Aging Safely sells have very low step in heights as well, but that can be dependent on certain installation factors as well.
Traditional bathtubs and showers may not be the best option for people who suffer from severe mobility restrictions or shoppers looking into aging in place options for the bathroom. Due to their low entry, walk in bathtubs and handicap shower stalls can potentially help bathers that may struggle with maneuvering or climbing the high sidewall to a regular bathtub or step in shower.
According to Aging Safely, the handicap shower systems come with a leading thirty year manufacturer warranty. In addition, the walk in bathtubs has a minimum standard of a lifetime door seal warranty against leakage. Whether shoppers have the specific need for a walk in tub, transfer bath system or roll in shower product, the company will offer customers shipping at no expense to the lower 48 states. It is important to note, the senior bathtubs provided also have warm air hydrotherapy and whirlpool type jetting as available options.
Additionally, safety grab bars are included in the packaged roll in showers offered. Customers may desire to purchase extra grab bars also for the entry of the bath or shower, bathroom doorway, by the toilet or anywhere else in their home where stability may be questionable. Several of the premium walk in bathtubs and handicap shower stalls provided by the company have safety grab bars pre-installed as well.
Customers interested in a non-obligatory consultation may contact an Aging Safely representative at the toll free number provided below. There are several factors to take into consideration when choosing the right appliance to install. Walk in bathtubs simply do not work for all people, likewise handicap shower stalls aren't right for everyone as well. A representative will help guide shoppers into selecting the appropriate product per their unique needs and answer all questions.
Contractors and assisted living facilities are also invited to contact Aging Safely, as the company sells at the wholesale level. Wheelchair access showers, walk in bathtubs, transfer bath systems and safety grab bars are prevalent in aging in place communities and elder care facilities. The ease of entry and designed in safety features can potentially be very advantageous and beneficial for caretakers and patients alike.
Contact Information:
Zach Wennstedt
1-888-779-BATH(2284)
info(at)Agingsafelybaths(dot)com