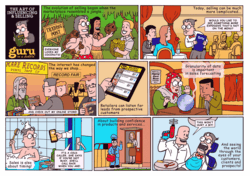 Ardi Kolah is a fantastic author and well respected marketing and communication practitioner. The "Guru in a Bottle" series is a unique take on improving one's sales and marketing techniques and strategies.

Sales Thinker Radio
Atlanta, USA (PRWEB UK) 18 April 2013
Todd Youngblood and Todd Schnick had a lot of fun when they invited 'Guru in a Bottle' sales and marketing practitioner Ardi Kolah on the show this week.
To listen to the broadcast, click here.
Ardi was independently ranked by the Chartered Institute of Marketing as one of the top 50 thinkers in the world in the industry and he shares his views on how to be successful in sales as well as content from his latest book, The Art of Influencing and Selling, published by Kogan Page.