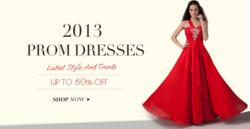 (PRWEB) April 16, 2013
Today, FannyBrides.com, a renowned manufacturer of women's dresses, releases 29 new items to its prom dresses 2013 collection, and announces grand savings on these new dresses, up to 60% off.
FannyBrides.com's prom dresses are popular for the top quality materials, masterly handcraft, and rigorous inspection. The 29 new items are certainly no exception. Moreover, these new prom dresses cover many popular styles, like A-line prom dresses, sweetheart prom dresses, princess strapless prom dresses, and more.
"We are excited to release these new dresses to our clients, and launch a promotion for our prom dresses. We will also release new designs of prom dresses every week in this prom season," says, Winson Yuen, CEO of the company. "We aim to make most of the customers satisfied with our products and services. Please keep an eye on FannyBrides, because a lot of exciting things happen here every day!"
As a pioneer in the industry, FannyBrides.com has an elite team with professional skills and unlimited creativity in dressmaking. FannyBrides.com recently underwent a complete redesign which allowed for the firm to grow overall and add over 3000 different dresses to be available instantly on the company's website. In addition, the company has promised to provide customers high-quality trendy designs (wedding dresses, prom dresses, cocktail dresses and more) with fast delivery.
About FannyBrides.com
FannyBrides.com is a professional manufacturer and retailer of wedding dresses and special-occasion dresses, supplying a wide range of cheap wedding dresses, cheap evening dresses, wedding dresses, bridesmaid dresses, cocktail dresses, and more. The company aims to deliver women worldwide all kinds of dresses at affordable prices.
More information can be found at: http://www.fannybrides.com/