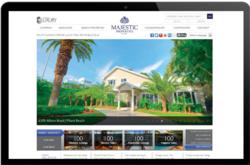 Miami, FL (PRWEB) April 18, 2013
Local real estate powerhouse Majestic Properties chooses miami web design firm Absolute Web Services to create custom content management systems and web layouts for their real estate website. Both Miami-based businesses discuss site updates to match the changing landscape of web design, client interests, and company needs as they arise.
Instead of a static group of pages, Absolute Web Services dedicates time for keeping client sites up to date. Improving layout, adding content, and even increasing online presence are frequent tasks of the Miami web design firm.
The AWS-developed Majestic Properties website allows customers to search for properties through a constantly updated MLS properties list. Absolute Web Services has created a custom, intuitive site for their client. This site provides customers the chance to browse through neighborhoods, properties, condos, and more through a single route.
This developed real-time updates through Absolute Web Services' custom CMS gives Majestic Properties an edge over the competition. An easy-to-update platform specifically designed for Majestic Properties' needs makes updating and maintaining the site less time consuming and more intuitive.
About Majestic Properties
Majestic Properties consists of over 200 knowledgeable and skillful sales associates. This real estate service provides in-depth knowledge of the rental and purchasing market in Miami and the surrounding areas. Founded in 1995 by Jeff Morr, this real estate company quickly became Florida's leading independent full-service real estate solution.
With $5 billion in total sales, Majestic Properties shows no signs of slowing down. Inc. 500 Magazine labeled the company as the quickest growing privately held real estate businesses that offers full service in the US.
About Absolute Web Services
Absolute Web Services is one of Miami's leading web design firms. Offering personalized, custom site design and management, Absolute Web Services is often the choice of both major companies and small business. The personal approach and web business knowledge of the company provides a unique and powerful web design option.
Contact
For more information about AWS custom web development, please contact
Absolute Web Services, Inc.,
18851 NE 29th Ave, Suite 727,
Miami, Fl 33180
Phone: 305.937.2526 Fax: 954.252.4144
info(at)absolutewebservices(dot)com