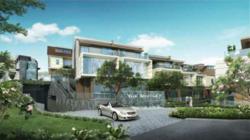 Freehold Strata House await you at Whitley Residences
Singapore, Singapore (PRWEB) April 19, 2013
Whitley Residences presents 61 Rare Freehold Strata House at Whitley Road, Singapore District 11. This prestige development occupies probably the largest freehold land in District 11. Located at Whitley Road, enjoy the quietness and serene enclave at the quiet Bukit Tunggal and Chancery Posh Landed.
Inspired by nature over at marchite reservoir and Bukit Timah nature reserve, Whitley Residences is well surrounded by greenery landscaping and water features with soothing water sound of nature.
These are 58 strata semi detached houses and 3 units of strata terraces with attic. They are built on 130,165 square feet of site. They are designed with futuristic features, multi-generational considerations that are an asset for the next few generation with its freehold status. What with 5 bedrooms, study, utility and family area (all under one roof) and a private lift accessible at all levels. They are complete with a wet and dry kitchen, with a cooker hood and hob, wine chiller and built-in dishwashers and a fridge.
The house sizes (in square feet) range between 5199 – 7104 for the semidetached and 4801 – 6620 for the terraces while having 2 car park lots per unit. The facade is made of fine linear glass architecture and strategically positioned in a North-South orientation. They overlook greenery, landscaping and water features for a natural feeling. Everything from home feeling to the eyes is soothed by sights from the houses and the equally good neighborhood.
They come well-equipped with condo facilities for enjoyment, a gym, swimming pool and a clubhouse. They are ideal for interaction in communal facilities to spice life or after a working day. There are eateries and restaurants nearby along Balestier and Thomson roads. There are schools, eg Anglo Chinese School, the Catholic Junior College amongst others just within reach and for the convenience of residents.
And for motoring residents, Whitley Residences are connected via expressways – Pan Island Expressways (PIE) and Central Expressway (CTE). Movement is smooth; indeed, it is only about 15 minutes to the central business district (CBD) or the Orchard shopping belt.
Spacious interior coupled with top-quality finishing further add on to the prestige and luxury of Whitely Residences. Nothing like a home sweet home after a hard day can be more relaxing for families over a home-cooked dinner.
Whitley Residences - A place where dreams are fulfilled.
For more information regarding Singapore New Launches, do visit us at http://www.newlaunchxpert.com.sg.