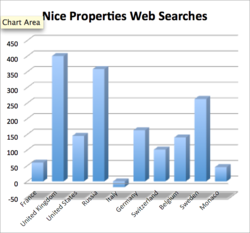 It's very reassuring to know that people are still choosing the Mediterranean climate over a trying economic climate.
Nice, France (PRWEB UK) 19 April 2013
Although the Eurozone crisis continues to saturate the headlines daily, Nice Properties Group web search data reveals a continued demand for mid-level luxury properties on the French Riviera.
An analytic web comparison was done for the first quarter of 2013 with the first quarter of 2012 to get a snapshot of how this sector of the luxury real estate market is performing amid gloomy media headlines with the Eurozone crisis.
Results indicated a very strong increase of Russian and Scandinavian people searching for properties, 358.64% and 263.14% respectively. The largest increase however, continues to come from the British with a 400.45% increase. Globally there was an 80.31% in traffic to the site.
Michael Fusaro, Commercial Director for Nice Properties explains, "The findings are very interesting because not only do they indicate that the demand for these properties is still strong, it also reveals that people are becoming more informed buyers spending more time doing their own extensive property searches. This is beneficial for both sides because clients have a better idea of what they want, and the data provides us with valuable trends of the type of properties they are looking for.
In looking at the data from the first quarter this year compared to the same quarter of 2012, we had a 80.13% global increase in traffic to our site, but more importantly we a huge increase in searches from Russia and Scandanavia and significant continued interested by the British which we already know. For us this was interesting because it correlated with our sales from the same geography with the most popular searches being luxury villas on the Cote d'Azur and reconfirms that the lifestyle on the French Riviera is still the main reason driving our sales. It's very reassuring to know that people are still choosing the Mediterranean climate over a trying economic climate."
Recent reports by Knight Franck for High New Worth Individuals have also shown that lifestyle continues to be the key factor for buying real estate in the French Riviera over financial motivations with ultra high net worth individuals considering family and lifestyle first.
About Nice Properties Real Estate Group
Nice Properties is the French Riviera's leading real estate group specializing in the sale of luxury villas, vacation homes, apartments, commercial real estate and new build programs. They have the most effective professional multi-lingual network of real estate professionals with five offices along the Cote d'Azur from Cannes to Beaulieau, providing an efficient and seamless platform for the best real estate opportunities and investments on the French Riviera. To find out more information about the best properties for sale or for seasonal rental on the French Riviera, please visit our website.