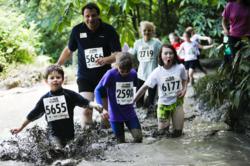 (PRWEB UK) 17 April 2013
There is so much research to indicate that today's children's are missing out on simple outdoor play. A survey by Play England discovered that 60% of kids would rather be on computers or in front of the TV rather than getting muddy, building dens, climbing trees or riding bikes. To be fair the opportunities for this type of play have declined significantly since their parent's day due to lack of access to green spaces, volume of traffic and safety fears. There are a number of initiatives working towards trying to improve the access to the outdoors and importantly to encourage busy and sedentary parents to be active with their children.
Mud Runner Race Series introduce Junior Mud Runner two years ago and it has grown dramatically in popularity with entries increasing from 170 to 850 within just 3 races. It is the UK's biggest timed junior 5km mud race for children aged between 5 and 15 years old take part. Many parents also use it as an opportunity to have fun with their kids running through water filled pits, up muddy banks and tackling ridiculously thick mud! It is a challenging event regardless of age and fitness with some running for fun and others running for trophies. Many of the children also use it as a way to raise money for charity or for their sports clubs. At the last Junior Mud Runner there was an inspiring group taking part, Days out with Dad: a charity that promotes events that are father-friendly and designed to engage both children and their dads together. 17 dads and 26 children ran together squelching through thick mud with a strong sense of fun and achievement.
There are many barriers to children getting outdoors and enjoying their environment so more action and opportunities like Junior Mud Runner must be created to facilitate the simple pleasure of playing out, having fun and feeling good.
For details of the next Mud Runner race see http://www.mudrunner.co.uk