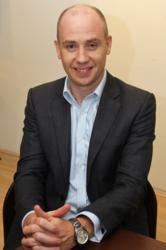 A survey recently conducted by the iProperty Group also revealed that out of the 8,048 respondents that participated in the survey, 83% revealed that they search for properties and property related news on iProperty.com Malaysia.
Kuala Lumpur (PRWEB) April 16, 2013
When it comes to property search or property related news, iProperty.com Malaysia, the country's No. 1 property website, is certainly the website that Malaysians turn to. In March this year, the company recorded a whopping 4.6 million visits a month with 1.5 million unique visitors.
Compared to the same month last year, the number of visitor to the site grew by an outstanding 63.74% with the growth of unique visitors exceeding 47.67%.
Chief Executive Officer of the iProperty Group, Shaun Di Gregorio said, "The results that we have achieved this year have certainly exceeded expectations. With the upcoming general elections, we were expecting the market to be slow as property buyers and investors were adopting a wait-and-see stance. However, the love affair for property in Malaysia still continues. The results are also a testament that iProperty.com Malaysia is the clear favourite website of choice for property buyers and investors,"
He attributed the success to the fact that the company continuously strives to ensure that property buyers and investors have the best search experience.
A survey recently conducted by the iProperty Group also revealed that out of the 8,048 respondents that participated in the survey, 83% revealed that they search for properties and property related news on iProperty.com Malaysia.
"Property buyers and investors turn to us as we are a one-stop property website that meets all their needs. We empower users with the resources they need to make better-informed property decisions. Our consumers can find their next home, obtain relevant information such the amenities around the property of choice, talk to agents and get local information," added Di Gregorio
Aside from that, as a company that adopts a mobile-first approach with a strong focus on innovation, the company continues to see significant growth in mobile usage from property buyers and investors.
Compared to March 2012, internal data has shown a 158% increase in the number of property buyers and investors who have utilised the mobile platform, be it on the iPhone, iPad, Android, Symbian and Windows apps, which were designed to enable consumers to have the convenience to search for properties with greater ease.
"Technology is rapidly changing and with it consumer behavior as well. Our property search apps have been designed to provide consumers with a simpler alternative to search for properties no matter where they are and any given time. The free to download app provides them with the same information that the website does, with a key difference being that with their mobile device, they can instantly search for property for sale or rent around them," added Di Gregorio.
Elaborating further, Di Gregorio added that the website did not only meet the needs of its consumers but also its customers. The year-on-year comparison showed a 12% increase in property enquiries sent to agents either via email, SMS and phone calls. There was also an 11.48% increase in the number of agents that have turned to iProperty.com Malaysia to be their preferred marketing partner.
"The record traffic to the Malaysian site is a testament to the company's commitment in providing an innovative and highly effective platform for consumers to obtain information about the property market and also to find their dream home. The fact that we're demonstrating such excellent growth, as well as user retention in the current economic climate, is powerful evidence of the strength of the business and its usefulness to our customers. iProperty.com Malaysia has certainly cemented its position as the trusted and preferred portal that property buyers and investors go to to search for their dream home or next property investment," concluded Di Gregorio
About iProperty Group Limited (iproperty-group.com)
Listed on the Australian Securities Exchange, the iProperty Group (ASX:IPP) owns and operates Asia's No.1 network of property websites under the iProperty.com umbrella brand.
Headquartered in Kuala Lumpur, Malaysia, the Company is focused on developing and operating leading property portals with other complementary offerings in Asian markets. It currently operates market leading property portals in Malaysia, Hong Kong, Macau, Indonesia and Singapore, and has investments in India and Philippines. With further expansion planned, the iProperty Group is continuously working to capitalise on its market-leading positions and the rapidly growing online property advertising market throughout the region.
Along with 18 property websites across the region, the Group's portfolio also includes the first comprehensive regional commercial property website, CommercialAsia.com, as well as a regional property exhibition business and monthly property magazines in Malaysia and Indonesia.
iProperty Group Network of websites:

Malaysia: iProperty.com.my
Indonesia: rumah123.com and rumahdanproperti.com
Hong Kong: GoHome.com.hk
Macau: vProperty.com
Singapore: i Property.com.sg
Commercial: CommercialAsia.com
India: in.iProperty.com
Philippines: iProperty.com.ph
Events: expo.iproperty.com
Luxury: iLuxuryasia.com