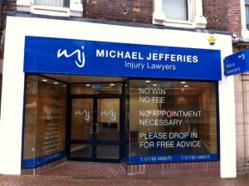 If we can replicate the hard work and commitment of our Cheshire workforce in the new Stoke offices then I am confident our business will flourish
Stoke On Trent, Staffordshire (PRWEB UK) 18 April 2013
Jefferies Solicitors has opened the doors to its new offices in Hanley, Stoke-on-Trent, Staffordshire.
The addition of the new premises means that the specialist personal injury law firm, which already has its head office and central support centre, housing over 50 staff in Altrincham, has a great opportunity to develop its business further afield.
Whilst the organisation proivides a UK wide service for those looking to seek compensation for personal injury and accidents from Altrincham, the firm feels that the new Stoke office is its first step into the high street with its brand, Michael Jefferies Injury Lawyers. The offices are situated in a key retail area of Hanley with work space spread out over three floors.
Managing Director, Michael Jefferies says: "If we can replicate the hard work and commitment of our Cheshire workforce in the new Stoke offices then I am confident our business will flourish".
Michael's co-Director, Nina Ramsden echoes his sentiment, saying, "We are here to provide an expert local legal service to local people. We're experts at what we do and we want people to drop in and talk to us - there is no need for an appointment; we offer a free interview in a friendly environment and we 're very excited to be opening in Hanley."
The law firm, which is jointly managed by Michael Jefferies and Monina Ramsden, has been offering personal injury legal services for over 18 years and prides itself on delivering a customer-focused service to its clients.
Michael adds: "The office will provide a specialist central service dedicated to helping with a range of accident claims and personal injury compensation cases, including road traffic accident claims, injuries in the workplace, slips trips and falls, industrial diseases and medical negligence compensation claims."
About Jefferies Solicitors
Jefferies Solicitors are a law firm who specialise in no win no fee personal injury. They provide a UK wide service from their Altrincham Head Office, and more recently have launched their 'high street' brand Michael Jefferies Injury Lawyers in order to provide a 'local lawyer' service to those wishing to investigate claiming compensation for injuries. They have been established for over 18 years and employ over 50 staff made up of personal injury lawyers, paralegals and support staff.