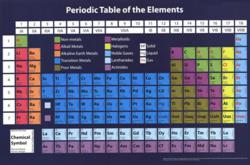 Delray Beach, FL (PRWEB) April 16, 2013
Posters are the perfect visual learning tools for teachers. Whether educators are searching for posters for preschool or college classrooms, they will find what they are looking for in the variety of subjects offered on the PosterNation.com.
Vladimir Safin, co-founder of PosterNation.com, said, "Teachers were contacting us searching for specific themes, such as DNA, multiplication tables or Civil War posters. Students spend a lot of time in the classroom, so it's important to provide them with imagery that constantly promotes learning."
Finding the right posters can help educate and motivate students in the classroom. The colorful graphics and relevant subject matters create interesting focal points that capture the attention of young minds. The new expanded selection of educational posters for the classroom is available now. Posters and art prints are available in a variety of subjects such as chemistry, biology, math, reading and history and more.
About PosterNation.com
PosterNation.com offers thousands of high-quality framed art prints and posters featuring themes that include: sports, movies, music, pets, animals, travel, motivational topics, hot people, vintage celebrities and more. The frame shop allows customers to customize their purchase by selecting the cropping, matting, framing and glazing for a framed art print or poster. Please visit http://www.PosterNation.com for more information.