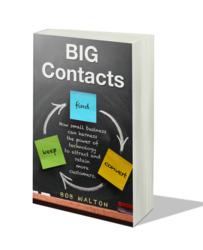 Walton makes customer relationship management (CRM) understandable and actionable.

– Brian Halligan, CEO & Founder of HubSpot
Duluth, GA (PRWEB) April 18, 2013
BigContacts issued a statement reaffirming their commitment to deliver Simple & Affordable CRM Software to Small Businesses. As part of their commitment to small business, BigContacts plans to release their "next generation" of CRM Software within the next 30-60 days. "This new platform will incorporate all that we have learned from our customers over the past several years, including the addition of social media integration and a new Mobile Edition later this year," said Bob Walton, founder and CEO of BigContacts.
Established by Bob Walton in 2006 after experiencing first-hand the difficulties of an off-the-shelf CRM software, BigContacts offers a unique CRM software tailored specifically to the small business world. "Too many software programs today feel like they have been developed more from an engineer's perspective rather than from the end user's. This creates a real disconnect when it comes to small business owners understanding how to best utilize the software," said Bob Walton, founder and CEO of BigContacts.
BigContacts was founded to build a web based CRM application designed from a real user's perspective. The singular focus is to give the small-business owner a set of tools that are easy to use and can help ensure success when it comes to managing their important prospect and customer relationships. In the past 7 years, BigContacts has helped over 10,000 small businesses with their tailored CRM software. Aimed at businesses that have outgrown other solutions, BigContacts is an easy-to-use software that can be customized to fit the needs of any entrepreneur.
Businesses commonly struggle to get over the organizational hump that will allow them to better evaluate, understand and improve their day-to-day processes. And for those that are able to get organized, few effectively harness the power of technology to put tools in place for maximum growth. Bob Walton's recent book, "BIG Contacts", is a great resource that will help to ensure that your small business is on the right track for consistent and meaningful growth.
Walton wrote the book keeping the user in mind rather than the engineer. With over 2 decades as a small business owner, Walton wrote "BIG Contacts" to guide others through the necessary planning and strategy to be successful. Rather than focus on the software itself, Big Contacts puts the emphasis on entrepreneurs evaluating how they organize information about prospects and current clients with the assistance of CRM software.
BigContacts is a software company that was founded in 2006 with a singular focus on delivering cost-effective and user-friendly CRM Software to help small businesses manage their prospects and customers.
BigContacts is now a leading web based CRM (Customer Relationship Management) software solution designed for small businesses that have outgrown basic solutions like Outlook, Excel or ACT but don't want the cost and complexity of CRM solutions like Salesforce.