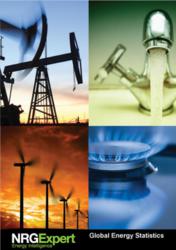 Available free-of-charge for a limited time period.
(PRWEB UK) 16 April 2013
This Global Energy Statistics Handbook presents key data on each energy sector. The database outlines global reserves for common fuel types and allows you to compare and analyze trends in the Electricity and Natural Gas industries. The Database also compares various countries' 'household carbon footprints', to reveal which countries have the lowest carbon emissions.
The dataset is available free-of-charge for a limited time period. It is designed to showcase NRG Expert's expertise in the energy market and share key findings from their global energy analysts. To immediately receive your complimentary Global Energy Statistics Handbook click here and visit http://www.nrgexpert.com
Background information
NRG Expert is a London and Toronto based energy market research publisher. NRG Expert provides up to date information, energy statistics and analysis on worldwide energy markets.