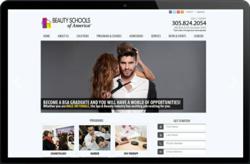 Miami, FL (PRWEB) April 24, 2013
Beauty Schools of America, a premier global beauty academy located in Miami, chooses Miami website design company Absolute Web Services to redesign, update, and manage their website needs. Absolute web services has built a smooth navigation layout that allows visitors to learn about all that Beauty Schools of America has to offer.
New and prospective students are able to easily discover the benefits of the leading cosmetology school in the Miami area through a few clicks of the mouse. With detailed course offerings and descriptions, understanding what programs entail is simple and straightforward. Course hour totals and examination requirements are easily found through individual program pages.
Absolute Web Services has created a custom website with a proprietary content management system that allows the beauty school to easily update information on their site. The creative direction AWS uses meets the needs of individual clients, as is showcased through the melding of Beauty Schools of America's needs and its aesthetic tone.
The Miami-based beauty school's website is also optimized for search engines. Prospective students can now simply search with terms like beauty schools in Miami in any major search engine to view the site. Since the site is built from the ground up with Beauty Schools of America in mind, updates and site maintenance is both intuitive and convenient.
About Beauty Schools of America
For more than twenty years, Beauty Schools of America has provided top tier education to both men and women searching for a career in the field of beauty. The school focuses on building the skills of students, increasing talent in specific fields, and educating individuals searching for a career. As a certified institution, the programs at the spa and beauty school result in the proper licensing needed for specific fields.
Upon graduation, students of Beauty Schools of America are greeted with an expanding field of personal beauty. Whether a massage specialist, a beauty shop stylist, or a traditional barber, certification programs at the Miami beauty school prepare students for successful careers.
About Absolute Web Services
Absolute Web Services is a leading Miami-based web development firm. Personalized website creation, custom content management systems, and search engine optimization are all specialties of the web design company.
Absolute Web Services is often the choice of both major companies and small businesses in need of dynamic website services. The personal approach and web business knowledge of the company provides a unique and powerful web design option for a variety of business types.
Contact
For more information about Absolute Web Services' custom site creation options, please contact:
Absolute Web Services, Inc.,
18851 NE 29th Ave, Suite 727,
Miami, Fl 33180
Phone: 305.937.2526 Fax: 954.252.4144
info(at)absolutewebservices(dot)com