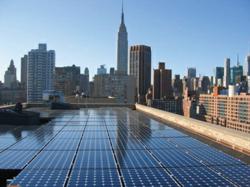 Long Island, NY (PRWEB) April 17, 2013
The New York State Energy Research and Development Authority (NYSERDA) has awarded $46 million to aid commercial and industrial facilities with converting to solar power.
Under Governor Cuomo's New York Sun Initiative, 28 commercial businesses, factories and other large scale operations are set to receive $46 million in funding for solar energy projects. It is estimated that it will add 52 megawatts of solar power to the state's current capacity. New York's new solar energy projects will be spread across 76 separate locations in 33 counties statewide.
"This initiative will have a direct impact for Peak Solar's customers in the New York region. Potential customer within the state will be able to take advantage of the rebate thus decreasing there overall payback of solar system under 4 years," said John Bucher VP Sales at Peak Solar.
In addition to this grant, the New York Sun Initiative also has programs for small businesses and residential consumers. The announcement comes at a time when the cost of solar power is at an all-time low. By the end of 2011, installation cost was averaging $1.30 per watt. By 2012, that figured decreased to .93 per watt and is now hovering around .83 per watt. The New York initiative is reflective of the dramatic rise in residential and commercial photovoltaic systems.
As an industry leader in photovoltaic systems, Peak Solar packages home solar systems for residential and small business needs, as well as strategic development for large commercial scale projects for solar energy in USA. DIY solar kits further reduce the cost of implementation by eliminating much of the labor associated with installation. By visiting the website (http://www.peaksolar.com), consumers interested in converting to solar power can find information and receive live assistance on a wide range of topics, from planning to installation.
John Bucher,
1-805-765-2781
JrBucher(at)PeakSolar(dot)com
About Peak Solar:
The Peak Solar team has over four decades of experience in solar development and engineering. Together, they are working to make the science of solar energy a reality for average Americans. In addition to supplying photovoltaic systems, power inverters, DIY solar kits and components for residential applications, the company is a provider for large scale commercial projects and development.