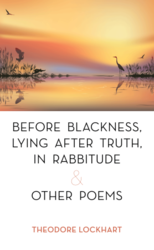 A retired minister shares his poetic response to events taking place in the late 1960s through 2011 in this new collection of poetry.
St. Petersburg, FL (PRWEB) April 17, 2013
Poetry brings a new perspective to feelings and events sometimes not possible with traditional writing. This new collection of poems, written between the late 1960s and 2011, centers on Theodore Lockhart's responses to experiences ranging from hearing about the assassination of Dr. Martin Luther King Jr. to stirrings related to the black consciousness movement, emotions emerging during his failing marriage and responses to his journey in faith.
Organized into four sections, "Before Blackness, Lying After Truth, In Rabbitude & Other Poems" begins with "Before Blackness," a point in time during segregation when teachers served as leaders before would-be revolutionaries joined the cause, followed by "In Rabbitude," focusing on folkloric traditions like the talking Brer Rabbit and preacher-men as characters. Poems in "Because They Wanted To" feature love and heart connections blind to race and gender, while the fourth section, "Lying After Truth," touches on philosophies and religion in a mixed-up world.
"The Seed of Rape" paints a bleak picture and events such as the murder of Emmett Till: "Ask those who know the seed of rape. Ask those who know rape as a residue of juiceless grapes, now filtering the making of American vinegar. I asked and these are they who spoke." Lockhart explores the pain of his separation and eventual divorce in the haunting "Thoughts in Time of the Fall," writing "In the year the world ended, no notice was given of its passing. Dying without Eliot's bang or whimper, or even a sign of the last gasp passing. It just lost its fizzle, like the beer without a good head: Unseen by the bartender, unnoticed by the drinker – both just passing through." Lighter moments occur with poems such as "Manhood In My Town," written to the author's teenage son: "For every man you know as a boy is your father. And the one you believe is your father, is just one man who arrived at his manhood in imitation of all men."
Author Theodore Lockhart, a retired United Methodist minister who served congregations in Massachusetts over four decades, also worked at Boston College, Andover Newton Theological School and Emerson College. He has held various officer positions at the Dr. Carter G. Woodson African American Museum in St. Petersburg and been interim pastor part-time for St. Petersburg congregations. The former U.S. Air Force member also wrote "In Search of Roots," an earlier collection of poems.
----------
For additional information, please visit http://www.myrabbitude.com.
Before Blackness, Lying After Truth, in Rabbitude & Other Poems
Theodore Lockhart
Dog Ear Publishing
ISBN: 978-1-4575-1675-7
124 pages
$12.95 US
Available at Ingram, Amazon.com, Barnes & Noble and fine bookstores everywhere.
About Dog Ear Publishing, LLC
Dog Ear Publishing offers completely customized self-publishing services for independent authors. We provide cost-effective, fast, and highly profitable services to publish and distribute independently published books. Our book publishing and distribution services reach worldwide. Dog Ear authors retain all rights and complete creative control throughout the entire self-publishing process. Self-publishing services are available globally at http://www.dogearpublishing.net and from our offices in Indianapolis.
Dog Ear Publishing – self-publishing that actually makes sense.