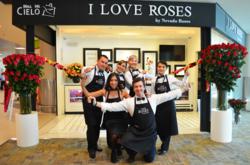 "We aim to become the natural luxury gift to bring to an esteemed friend or business contact in another country"
Quito, Ecuador (PRWEB) April 20, 2013
Nevado Roses, the producer of premium cut roses, today announced that the company has opened a new shop featuring luxury roses and rose products in the departure hall of the new international airport in Quito, Ecuador. The shop will carry the group´s luxury rose brand "I Love Roses, by Nevado Roses." The completely new airport opened on the 20th of February 2013, and the "I Love Roses" flagship store is now open for business in the duty free area. The shop is the first franchise of many expected to open in airports all over the world.
"With the opening of this luxury shop for rose lovers, our company is taking a major step in becoming a branded rose for the world. We aim to sell roses in all shapes and forms, packaged in beautiful wrapping," says John Nevado, the President of the company.
The shop will sell all things derived from roses and will offer both fresh roses for export as well as dozens of products made from the organic edible rose petals for which the company has become famous. Among the high-end products on sale will be Rose Marmalade, Rose Salt, Rose cufflinks, Scented Rose Candles, as well as loose petals for cooking. The shop aims to be the go-to destination for luxury gifts for tourists and Ecuadoreans departing on international flights.
"We see our roses becoming the natural luxury gift to bring to an esteemed friend or business contact in another country," says Roberto Nevado, CEO of Nevado Roses. "We are proud of being an Ecuadorean company, producing a luxury branded product for the international market."
The shop's design takes inspiration from luxury brands such as Chanel, Patrick Mavros, Hermés, BYREDO, Ladurée and other hi-end artisanal products where the focus is on an ultra luxury product presented in an exclusive setting. The branded luxury market is targeting ever more niche products and the investment community is waking up to this interesting segment. Both Bernard Arnault´s LVMH, François-Henri Pinault´s company PPR that owns Gucci, etc. and the Richemont Group that owns Panerai and Shanghai Tang are pursuing investments in the ultra high end luxury segment.
"It is wonderful to be able to contribute in this way to make the Quito airport even prettier for international travelers," continues John Nevado. "We will have state-of-the-art products being offered and packaged by state-of-the-art sales staff and the customer will get the attention that the discerning international traveler has come to expect in Faubourg Saint-Honoré, on The Bund or at Rua Oscar Freire."
This shop is the first of many in a long line of franchise shops, destined for top international airports such as Pudong, Dulles Airport, O´Hare Airport, Schiphol, BCIA, Guarulhos International Airport, Barajas, Hongqiao, and hopefully many more. "Our dream is to partner with a large franchise/airport tax free operator such as Nuance Group, Dufry, Lotte Duty Free, Dubai Duty Free, Lagardère Services, World Duty Free Group, IDFS, Lotte Group, Duty Free Holding Group, DFS Group or a similar group. Any one of those international operators could propel our beautiful roses to the stars!" exclaimed John Nevado.
The franchise concept comprises everything from shop decor, team training, marketing, full line of packaged products, all IT services connected to ILoveRoses.com´s strong eCommerce infrastructure and additional floral decoration for the target airport.
BACKGROUND ON "I LOVE ROSES"
ILoveRoses.com is a luxury brand launched by Nevado Roses in 2012 to target the international market of rose lovers. The brand owns and operates a beautiful, photo-heavy international online magazine, http://www.ILoveRoses.com, with dozens of contributors. The magazine and the community around it is extremely active in the social media scene, with a large presence on Facebook, Twitter and Pinterest.
BACKGROUND ON NEVADO ROSES
Nevado Roses is a family run rose plantation in Ecuador, SouthAmerica. With over five hundred employees, the company grows the world's most exclusive roses for discerning consumers worldwide.
The roses are produced under certified sustainable standards and Nevado Roses has been granted, among others, the Fair Trade certificate, the Rainforest Alliance and the USDA (United States Department of Agriculture) Organic and the EU "Ecological Agriculture" seals of approval. The fact that some of the roses are organic means they are produced without chemical pesticides or fertilizers, but rather using all-natural alternatives. These alternatives include spraying the roses with garlic-water or chamomile emulsions. The Company also uses predatory insects that kill off the bad insects and uses plants such as tobacco to ward off certain flies. "We use nature to combat pests," says John Nevado. "These programs are all part of Nevado Roses´s all-natural disease control program."
Organic roses produced without the use of harmful chemicals can be eaten, used in drinks or in spa treatments. The taste is rather like arugula/rucola/ "rocket", a slightly acidic tart taste ideal for creative appetizers and salads.
For More Information Contact:
John Nevado
President
Nevado Roses
Tel: +46 70 911 2300
email: john(at)nevado(dot)org
Skype: johnnevado
For more information on roses see:
http://www.ILoveRoses.com
For more information on Franchise Opportunity contact:
john(at)nevado(dot)org