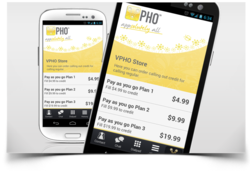 We offer good call rates to any part of India and other countries.
(PRWEB) April 18, 2013
When looking to contact friends or families outside of the immediate calling area, there are often a few additional processes that one must go through in order to make the call successful. However, with the "appsolutely all" mobile app VPHO, international calls can now be made easily through the mobile platform without requiring the purchase of an international phone card through a third party provider, which also saves the caller from dialing long pin numbers in order to place the call.
In recent months, the company has found that their excellent coverage and inexpensive plans in India have resulted in a spike in popularity for the VPHO app within the region.
"We offer good call rates to any part of India and other countries in the area," says Hadar.
"It's possible, others in the industry can beat our prices, but with other providers, you must use a calling card or pay and additional cost for place the call. And with our expanded bandwidth, VPHO offers great connection quality," says Yuda Hadar, CEO of VPHO.
VPHO, or course, already provides a free voice call service to customers to anyone who has the app installed to their mobile device. Calls can be made using either the WiFi/3G connection or local minutes. To make a free call simply choose the contact and press the Free Call Button.
The VPHO app provides information from their phonebook to show which of their contacts also have the app by displaying the VPHO logo next to the contact name. Calls made to these contacts are entirely free when using the WiFi or 3G connection.
About:
VPHO combines the special features of each of its leading competitors into one, single functioning app. With VPHO, iPhone, iPad, and Android users are able to access an all-in-one communication solution. Access to Edge, 3G, 4G, Wi-Fi connection VPHO allows users to connect with people from around the world by audio and video calls with crystal clear precision. The app also provides text and media messaging as well as video and voice conference calling, something not offered by another app currently available on the market.