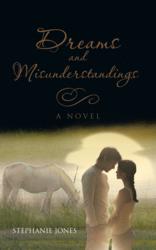 AUCKLAND, New Zealand (PRWEB) April 18, 2013
In the modern day of Skype and iPhone's, does technology help or hurt long distance relationships?
In Dreams and Misunderstandings, Stephanie Jones depicts how the technological revolutions of today caused an emotional love triangle spanning across multiple cultures. This romance novel takes place in a rural town and introduces the reader to a young couple in love. Through a mix of tragedy and destiny, Dreams and Misunderstandings intertwines the Wyoming Mountains with the English countryside to show how digital innovations created misunderstandings that ultimately tear the lovers apart.
Using details of her own childhood experiences with bi-cultural parents, Stephanie Jones illustrates how determined-love can conquer all, but not without difficulties and miscommunications.
"Coming from parents from different countries, I believe love can overcome anything," says Jones. "I want to inspire those in relationships of mixed cultures or long distances to try and overcome the obstacles they will face."
Perfect for both moms and their teens, Dreams and Misunderstandings is a romance narrative that holds an important lesson for everyone.
Dreams and Misunderstandings
By Stephanie Jones
ISBN: 978-1-4772-4730-3
Pages: 304
Price: $19.95
Available at http://www.authorhouse.com, http://www.amazon.com, and http://www.barnesandnoble.com
About the author
Stephanie Jones has a background in the textile and the fashion industries, which allowed her to travel around the world to fashion fairs. She currently works part time as an accountant. She lives in New Zealand with her husband and has two grown children.
# # #