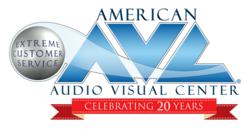 "After celebrating 20 years as a company, we know that it is the people that make this company so special and sustainable and Tim is the perfect person to join our leadership team." - Duane Tornq
Scottsdale, AZ (PRWEB) April 17, 2013
American Audio Visual Center® announces the appointment of Tim Brady as the company's new Vice President, Business Development.
Tim brings over 28 years of in-house hotel audiovisual experience and shares AAVC's passion for Extreme Customer Service®. Tim will be utilizing his knowledge and experience in assisting the executive staff in all facets of the company. AAVC has built their reputation and culture around its passionate and creative people and is branded as the extreme customer service company. Focused also on creative technology and a unique approach to producing meetings and events in conjunction with the companies continued growth in the hotel and resort business, Tim is the perfect addition to the AAVC culture.
"After celebrating 20 years as a company, we are poised to take the business to a level where others only dream of. It is the people that make this company so special and sustainable and Tim is the perfect person to join our leadership team." - Duane Tornquist, Senior Vice President of Creative Development & Chief Marketing Officer, AAVC
Having begun his career as a part-time technician, Tim still considers himself a technician at heart and has a deep-rooted passion for event success and the people that make it happen for our clients each and every day. Tim states, "First and foremost, Extreme Customer Service starts with having a hospitality mindset and a strong desire to serve others. Seeking to understand the client's vision and message and helping them create the impactful moments in an event that stay with an audience forever is the best description I can think of for event success. The people and culture at AAVC embody those qualities and I am thrilled to join such an exciting and dynamic team."
Previously, Tim was with Swank Audio Visuals and started there as a part-time technician in Houston, Texas over 28 years ago. In 1993, he moved to Phoenix, Arizona to start the company's Arizona and subsequent West Coast operations. He was promoted to Vice President in 1998 and to Chief Operating Officer in 2008. Tim's responsibilities included driving more consistency in the company's operating processes, equipment selection, performance evaluations and incentive programs. Tim led the company's marketing efforts and had significant involvement in hotel relationships, as well as capturing new client-hotels.
If you would like to correspond with Tim Brady to congratulate him on his new role, he can be reached by phone at our Scottsdale home offices at 480-596-9880.
About American Audio Visual Center, Inc.
American Audio Visual Center is a 20-year-old privately held company headquartered in Scottsdale, Arizona. AAVC is the chosen partner for some of the most prestigious hotel and resort properties throughout North America. American Audio Visual Center's® Blue Avenue Studios travels around the globe with many of the world's top corporations, producers and meeting planners, handling all of their audiovisual, multimedia and business theater needs. American Audio Visual Center is known throughout the industry as the Extreme Customer Service Company. For more information, please visit http://www.americanavc.com.