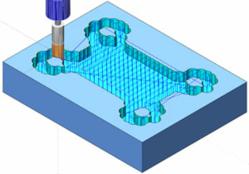 if they have a cnc machine, they're going to need 2D automation.
Clearwater, Florida (PRWEB) April 16, 2013
It's no mystery that CNC businesses have to maintain a high efficiency level when it comes to machining parts. This is where programming automation can make a big difference in a shops bottom line. The majority of CNC machine type work involves 2D machining. This is what just about every CNC shops has in common. To address 2D machining BobCAD-CAM announces the release of their 2D machining Wizards. These new wizards take 2D programming features in the software to a whole new level of efficiency and ease of use.
"While 3, 4 and 5 axis cnc machining technology is very important, we found that the majority of shops out there have a big need for 2D toolpath and machining features that will never go away," said Chris Corbell, Vice President for Marketing. "While advanced 3D machining and even multiaxis machining technology is growing in popularity, if they have a cnc machine, they're going to need 2D automation."
Because of this BobCAD-CAM added new machining "Wizards" to their software which maximizes the efficiency of cnc part-making. The wizard steps the programmer through the process of selecting geometry, picking tools and setting all of the parameters for creating 2D toolpath to cut the part on the CNC machine. Wizards basically remove the guesswork and keep features organized. Thus, streamlining the entire process. Recently BobCAD-CAM also added a new stock setup wizard to the software which eliminated the guesswork and potential problems that cnc programmers would run into when setting up their stock. CAD/CAM software was created to automate the machine programming phase of manufacturing. Something that BobCAD-CAM has more than 25 years of experience doing.
For more information on implementing 2D Toolpath and CAD/CAM software into your cnc business call BobCAD-CAM, Inc. at 877-262-2231 or 727-442-3554. Visit BobCAD-CAM online for a free demo at http://bobcad.com/.