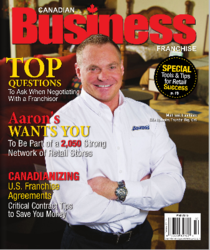 This article focuses on identifying a systematic process that will help each individual franchisee hire successfully within their location.
Chicago, IL (PRWEB) April 16, 2013
The leading selection management platform announced today that CEO, Adam Robinson, contributed an educational article to the May 2013 issue of Canadian Business Franchise Magazine. The 4-page spread titled, "Hiring for your Store," is an informational piece on successful hiring for franchise retail stores.
Canadian Business Franchise Magazine is published 5 times a year and the face of franchising for Canadian systems.
"Retail franchise systems face unique challenges when creating a hiring process for their locations," said Adam Robinson, CEO of Hireology. "This article focuses on identifying a systematic process that will help each individual franchisees hire successfully within their location."
The article, located on page 22 of the issue, identifies retail franchise's need for a systematic approach to hiring. Robinson details the various systems franchises have in place for running their locations, and he highlights the apparent lack of system and process for hiring and verification. Interested viewers can read the full digital edition on the publisher's site.
Adam is the CEO of Hireology, a web-based selection management platform that provides franchisees with online applicant management, job profiling, skills testing, behavioral interviews and verification services like background checks, drug testing, and credit checks.
To read more about how Hireology helps franchises, download their franchise hiring guide.
About Hireology
Hireology's award-winning Selection Management System helps companies organize their hiring process and leverage data to make better hiring decisions. Franchise systems, banks and financial institutions, healthcare systems, dealer networks, and other multi-site operators use Hireology's web-based Selection Manager™ to deliver consistent and repeatable hiring decisions in the field - leading to better hiring decisions, lower turnover, and increased profitability per location. For more information, please visit http://www.Hireology.com.