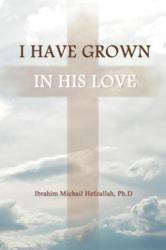 NEW HAVEN, Conn. (PRWEB) April 18, 2013
What would it be like to have known Jesus and to have witnessed His miracles and listened to His teaching firsthand? Would it make you a believer?
In I Have Grown in His Love, Ibrahim Michail Hefzallah helps the reader relive Biblical events of Jesus' miracles and teachings told from the viewpoint of James.
Following the young boy whose five loaves and two fish Jesus blessed to feed a huge crowd, the reader will enter into a fictional firsthand look of witnessing Jesus and His love. Through 10 stories, James develops his understanding of Jesus' holy presence and recalls his observations of the miracle of feeding the crowd, to Jesus' death, resurrection, and the establishment of His Church.
Perfect for all ages, I Have Grown in His Love illustrates to the readers a young man's maturation in faith and how they can share in love of Jesus Christ.
"While I was meditating, I imagined the Biblical events as I was reading," says Ibrahim "That night I put myself into the young boy's position who gave Jesus bread and fish to bless and was left with all sorts of questions; who was this boy? What was his life before and after the miracle? From there, I let my imagination tell his story of faith."
I Have Grown in His Love
By Ibrahim Michail Hefzallah, Ph.D.
ISBN: (SC) 978-1-4497-7374-8, (HC) 978-1-4497-7375-5, (E) 978-1-4497-7373-1
Pages: 290
Price: (SC) $22.99, (HC) $37.99, (E) $7.65
Available at http://www.westbowpress.com, http://www.amazon.com, and http://www.barnesandnoble.com
About the author
Ibrahim Michail Hefzallah was born in Egypt. He received two Bachelor of Science degrees from the Ein Shams University in Cairo. He received his M.A and Ph.D. degrees in Educational Technology from Ohio State University. He is a Professor Emeritus at Fairfield University and has authored and co-authored nine textbooks. Ibrahim currently lives in Oxford, Conn. with his wife, Mona. He serves as Secretary of the Deacons Council at his church, where he was recently ordained as an Archdeacon.
# # #