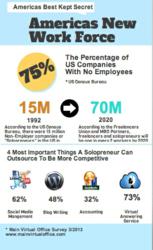 Portland, ME (PRWEB) April 25, 2013
When VOIP emerged in the early 2000's, many small businesses signed up with virtual phone systems like Grand Central (now Google Voice), GotVmail (now Grasshopper), OneBox and Ring Central. These companies issued 800 and local numbers, allowed greetings and voice mail recordings and programmed call forwarding, making these small businesses look more professional. While this worked well for these small businesses, it did not work so well for their customers. Ultimately most of their customers ened up in voice mail and with many studies reporting 80% of callers hang up when they are sent to voice mail, these small businesses may look more professional, but they are losing business. In a recent survey of very small companies conducted by Main Virtual Office, answering services were identified as the most important service they can outsource to be more competitive.
Thanks to voice of internet protocol (VOIP) and new cloud based technology, small business answering services are going through a renaissance. New answering service companies are now able to combine mobile functionality that allows their customers to manage their messages on their mobile devices, much like email. Cloud based answering service platforms can now automatically forward messages via email and text messages so that small businesses capture all incoming communications and potential leads and can respond rapidly to new inquiries to their businesses.
"Most of our answering service customers are virtual phone system customers that have decided its unacceptable for any of their callers to go to voice mail," says Jim Plunkett of Main Virtual Office. With the number of non-employer businesses increasing so rapidly, it's not surprising to see this shift in small business behavior.
Answering services which have traditionally had a poor reputation, now have the opportunity to fill the void between a virtual phone system and a full time front office receptionist. The answering service companies that emerge to dominate this void will be successful in combining the latest VOIP and cloud technology with outstanding staff and service.
Unlike call centers, where inbound callers are often angry, answering service inbound callers are usually just looking for a friendly live person to help them with their questions. This is conducive to positive environment and culture, especially when you are providing your receptionists significantly advanced technology to help them with their job.
About Main Virtual Office
Main Virtual Office is a virtual live answering service based in Portland, Maine. Our technology is completely cloud based allowing us to proficiently and professionally answer our customers calls - keeping their monthly minutes to a minimum. As a result, Main Virtual Office is the lowest priced answering service presently in the market, targeting the smallest of small businesses.