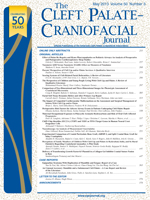 Workplace exposure, primarily through inhaling the smoke of burning substances, carries this significant risk.
Lawrence, KS (PRWEB) April 18, 2013
Cleft Palate-Craniofacial Journal – The first study in human subjects has shown what studies with mice had already found—a mother's exposure to polycyclic aromatic hydrocarbons is associated with a greater risk of her child having a cleft lip. Workplace exposure, primarily through inhaling the smoke of burning substances, carries this significant risk.
The case-control study, presented in Cleft Palate-Craniofacial Journal, included 2,989 control subjects, 805 cases of cleft lip with or without cleft palate, and 439 cases of cleft palate alone. It used data over a five-year period from the National Birth Defects Prevention Study.
The burning of coal, tobacco, and other substances creates polycyclic aromatic hydrocarbons. Occupations involving coke ovens, coal tar use, iron and steel works, carbon electrode production, and asphalt manufacturing are likely sources of exposure. Restaurants are another, more commonplace, source of exposure. Cigarette smoke, even secondhand, has already been established as a major source of exposure, showing a moderate association with clefts in earlier studies.
Mothers in this study participated in a computer-assisted telephone interview. Questions included maternal illnesses, medication use, pregnancy history, diet, and alcohol and tobacco use.
Additionally, the subjects supplied information about the jobs they held during preconception and pregnancy. Industrial hygienists assessed the occupational exposure these women experienced. The workplace exposure considered was limited to a period between one month prior to conception and three months after conception.
Those determined to be occupationally exposed to polycyclic aromatic hydrocarbons represented 3.5 percent of the control cases, 5.8 percent of the cleft lip cases, and 4.6 percent of the cleft palate cases. This study established a significant connection between maternal exposure to polycyclic aromatic hydrocarbons and the development of cleft lip or cleft lip and palate in the child. The association was not statistically significant for cleft palate alone, however.
Full text of the article, "Maternal Occupational Exposure to Polycyclic Aromatic Hydrocarbons and Risk of Oral Cleft-Affected Pregnancies," Cleft Palate-Craniofacial Journal, Vol. 50, No. 3, May 2013, is available at http://www.cpcjournal.org/doi/full/10.1597/12-104.
###
About Cleft Palate-Craniofacial Journal
The official publication of the American Cleft Palate-Craniofacial Association (ACPA), the Cleft Palate-Craniofacial Journal is a bi-monthly international, interdisciplinary journal on craniofacial anomalies. The journal explores and reports on the study and treatment, including experimental and proven surgical procedures, of cleft lip/palate and craniofacial anomalies. It also keeps readers in touch with the latest research in related laboratory sciences. To learn more about the society, please visit http://www.acpa-cpf.org/.