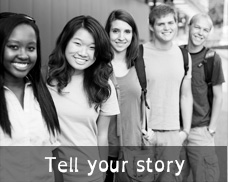 With millions of families trying to understand what is causing their children's reading difficulties, we are committed to making a much bigger impact.
Princeton, NJ (PRWEB) April 16, 2013
Today, the national nonprofit Learning Ally announced the launch of the 1in5 Initiative, a campaign to drive public awareness of dyslexia and offer hope and resources for the millions of individuals affected by it. The campaign combines a viral public service announcement along with an extensive community-driven website, Explore1in5.org.
Learning Ally CEO Andrew Friedman points to the estimates of experts that 20 percent of the U.S. population (one in five, or roughly 60 million people) struggle to read because of dyslexia. Despite its prevalence, the condition is widely misunderstood and often goes unrecognized. "Specialists agree that early recognition is critical," he says, "but many children are diagnosed late or not at all and many struggle in school without receiving the help they need to succeed. Some kids with dyslexia are labeled as lazy, unmotivated or slow – despite the fact that they have average to above average intelligence, as well as unique strengths and talents. With millions of families trying to understand what is causing their children's reading difficulties, we are committed to making a much bigger impact – doing much more to raise awareness of dyslexia and helping parents and educators understand how to help our children get a proper education."
"Explore1in5.org was created for people with dyslexia, with input from people with dyslexia," Friedman continues. "With their help, we've developed a dynamic online destination where kids and parents can hear from each other and share their diverse stories, discover a wealth of resources and become part of a growing community of support. It is incredibly important for parents and kids to see what others have gone through and what has helped them be successful. 1in5 highlights the help that is available, and shows that people with dyslexia are bright, talented and full of potential."
"The 1in5 initiative gives dyslexia a voice that has been missing," says Lyn Pollard, the mother of a seven-year old dyslexic child and a founding member of Decoding Dyslexia Texas. "The site draws you in with video, and offers spots to learn, share and heal. As an avid advocate for my dyslexic daughter, I think that 1in5 will help parents like me tell our story – a story that must be heard."
The Explore1in5 site is full of resources and info, including:

The facts, signs, and symptoms of dyslexia
Information about what dyslexia is NOT
Stories from people who have experienced dyslexia
Opportunities for people to share their own stories by uploading a video or writing a blog entry
Ideas and materials to help raise awareness of dyslexia
Dyslexic teenager Ben Schrader appreciates the positive atmosphere of the 1in5 site. "As I've gotten older, it's become easier to view my dyslexia as a gift," he says. "It's exciting to see the success other students have had and to be able to share my success with others. I hope their stories and mine will help those who are still grappling with dyslexia to know that they too have a gift and will enjoy success in life."
The 1in5 public service announcement is airing on Verizon FIOS in Washington DC, New Jersey, and Long Island, and is also running on Universal Sports, RCN, and in select radio markets. The PSA's call to action drives people to the Explore1in5 website, which will prompt them to share a video story, create a blog entry, explore helpful resources about diagnosis, assistive technology, tools and tips, and much more.
"After 65 years of providing audiobooks for people with print disabilities," says Andrew Friedman, "Learning Ally is expanding our commitment to provide a much broader array of tools and support to students to help them through their educational journey. Millions of kids need help, as do the families and educators who support them. Within the Explore1in5 site we are providing a special section called 'Helping the One' – a place where people who have served students with dyslexia can tell their stories. If you are that person, we hope you'll contribute. Your story might be the one that helps another person understand the truth about dyslexia and find hope."
About Learning Ally
Founded in 1948 as Recording for the Blind, Learning Ally serves over 300,000 K-12, college and graduate students, as well as veterans and lifelong learners – all of whom cannot read standard print due to blindness, visual impairment, dyslexia, or other learning and physical disabilities. Learning Ally's collection of more than 75,000 digitally recorded human-read textbooks and literature titles is delivered through internet downloads, assistive technology devices, and mainstream devices like iPhone and iPad, and is the largest of its kind in the world. Thousands of volunteers across the U.S. help to record and process the educational materials, which students rely on to achieve academic and professional success. As a 501(c)3 nonprofit, Learning Ally is partially funded by grants from state and local education programs, and the generous contributions of individuals, foundations and corporations. For more information, visit http://www.LearningAlly.org.