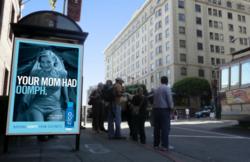 'Oomph' is a way to categorize the pure hydration and replenishment ZICO provides as well as that little bit of positive energy we all have and want more of
Sausalito, CA (PRWEB) April 17, 2013
To support its new national distribution, ZICO Pure Premium Coconut Water brings consumers "Oomph" in a multimillion-dollar integrated national advertising campaign from newly selected agency Butler, Shine, Stern & Partners (BSSP), breaking in twelve initial cities across the country this week.
Seeking to stand out in the growing and popular coconut water category, ZICO's new work celebrates natural Oomph from coconuts, bringing to life the drink's replenishing properties.
"'Oomph' is a way to categorize the pure hydration and replenishment ZICO provides as well as that little bit of positive energy we all have and want more of," said BSSP Creative Director Tom Coates. "And ZICO actually provides these benefits in a way other drinks don't—naturally."
The work takes to the streets with bold outdoor bus shelters, taxi tops, lifeguard stands, wild postings and other media. The ads juxtapose active and interesting characters with attention-getting headlines in the brand's arresting blue color. The varied cast includes a grandmother, a monkey, a bodybuilder, mannequins and others, providing Oomph through a mix of motivation and humor, and highlighting ZICO's five natural electrolytes.
A robust online campaign will complement the out-of-home installations with a collection of "Put Some Oomph in It" videos that feature characters who show short moments of Oomph. These include a coach, mud-run guy, spin instructor and grandma (http://www.youtube.com/ZICO). All are enlisted to give viewers an extra bit of Oomph.
To boost its presence online and at events, ZICO is partnering with SELF, Shape, POPSUGAR, Men's Fitness, Men's Health and UrbanDaddy to share the ZICO story through integrated content, home page roadblocks and event sampling. The banner creative will feature some of the same characters from the out-of-home effort.
A refreshed ZICO website from BSSP is also part of the brand relaunch (ZICO.com).
"To support our recent national expansion, this new marketing effort is an opportunity for ZICO to broaden our consumer from what have been traditionally athletes to anyone who embraces a healthy lifestyle," said Bill Lange, ZICO V.P. of Marketing. "Everyone could use a little Oomph and ZICO is just the thing to provide it."
About ZICO Beverages, LLC
Founded in 2004 by Mark Rampolla, ZICO Beverages, LLC (pronounced Zee-co) is the maker of ZICO Pure Premium Coconut Water. With five electrolytes and as much potassium as a banana, ZICO is the natural, refreshing way to hydrate and replenish. And because ZICO is the only major brand of pure premium coconut water available in both a tetra carton and a resealable, recyclable, on-the-go HDPE bottle, it truly is the ultimate hydration drink. ZICO is headquartered in El Segundo, California. For more information, please visit ZICO.com.
About Butler, Shine, Stern & Partners
BSSP (http://www.bssp.com) is a full-service marketing communications agency based in Sausalito, CA, providing services in advertising, online marketing, web development, data analytics, integrated communications planning, brand identity, design and strategic brand consulting. BSSP is one of the largest independent agencies on the West Coast and is known for providing highly creative, fully accountable marketing solutions to a broad array of marketers including Priceline, MINI Cooper, Columbia Sportswear, Sorel, Coca-Cola's ZICO, YP.com, Isis Mobile Payments, Greyhound, El Pollo Loco, Google, Mission Foods and SFJAZZ. In 2010, Adweek named BSSP "Best Small Agency of the Decade." Outside magazine also named BSSP "One of the Top 50 Places to Work in America" in 2011 and 2012. In 2012, Forbes.com named BSSP "One of the Top 10 Agencies in the Country."