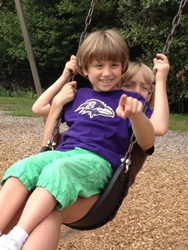 Baltimore, MD (PRWEB) April 23, 2013
Baltimore natives Bob and Michele Gay, who lost their daughter, Josephine (Joey) Gay in the Sandy Hook Elementary School tragedy, announced today they are hosting a benefit in honor of Joey's life. All proceeds will go to Joey's Fund, established in conjunction with The Doug Flutie, Jr. Foundation for Autism, to assist families with autistic children by providing access to autism programs, equipment and therapies that are not always covered by insurance.
Joey's Purple Ball will be on Saturday, June 8, at Bob Gay's alma mater, the Calvert Hall College High School in Baltimore. The gala will include music from top area 80's dance/party band, The New Romance, and cocktail hour music from Smokin' J and the Wicked Ways. WABC2 News anchor Jamie Costello will emcee the event.
In addition to food and drinks, a silent auction will be held that will include a signed football by the 2012-2013 Super Bowl champion Baltimore Ravens, Baltimore Orioles premium field box seats, luxury home rentals, and more.
The family hopes the event will be a celebration of a wonderful child, who loved the Baltimore Ravens and the color purple.
"Joey was a special child who touched the lives of everyone she knew," Michele Gay, Joey's mother, said. "Despite being non-verbal and autistic, she was a bundle of positive energy and love. Bob and I want to turn our family's loss into a lasting legacy of service to the autism community. Joey's Purple Ball is a great way for us to celebrate her life, while helping fund the cause that is now our life's work."
Tickets for Joey's Purple Ball can be obtained at: http://www.joeyspurpleball.eventbrite.com
Contributions to Joey's Fund can be made at: http://www.flutiefoundation.org/Donate-Joeys-Fund.asp
About The Doug Flutie, Jr. Foundation for Autism:
Bob and Michelle Gay established the Joey Fund, in conjunction with the Doug Flutie, Jr. Foundation for Autism, in December, shortly after the tragedy in Newtown.
The Doug Flutie, Jr. Foundation for Autism, Inc. was established in 1998 by Doug Flutie and his wife, Laurie, in honor of their 21 year old son, Doug, Jr. who was diagnosed with autism at the age of three. Autism is a neurological disorder that impacts the normal development of the brain in the areas of social interaction and communication skills. Autism now affects one in 88 children in the United States, and the numbers diagnosed continue to dramatically climb.
Our mission is to support families affected by Autism Spectrum Disorder. We are committed to increasing awareness of the challenges of living with autism and helping families find resources to help address those challenges. We provide individuals with autism and their families an opportunity to improve their quality of life by funding educational, therapeutic, recreational and advocacy programs. For more information on The Doug Flutie, Jr. Foundation for Autism, please contact Maria Baez at Ebben Zall Group at (781) 449-3244, or visit http://www.flutiefoundation.org.
Contact:
Ian Dix – 410.733.1007 – JoeysPurpleBall(at)gmail(dot)com
Website: http://www.joeyspurpleball.eventbrite.com