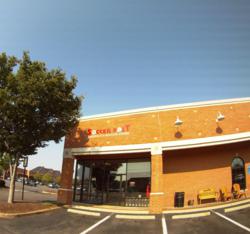 The passion that each employee has at Soccer Post D.C. goes much further than just ringing up purchases.
Fairfax, VA (PRWEB) April 17, 2013
Two years ago, a dream became reality for John Reeves and his soccer family as they entered the world of owning a specialty sporting goods store. As many sporting goods stores struggled during the recession and still do afterwards, John saw opportunity and followed his dream of opening a specialty soccer store where he calls home in Fairfax, VA.
John set up shop in Greenbriar Town Center next to Dogfish Head Alehouse in April of 2011 and opened his doors to the local soccer community. He saw this location as the epicenter of soccer in Fairfax, VA. The first days seemed as typical of any other small, new business. The shopkeeper/owner tended the shop each day and a second hand there when needed. Customers trickled in each day as word slowly got around Fairfax. Many stumbled upon the shop as they drove through the shopping center. Customers would come in and browse around with many starting up conversation with John or his staff with the words, "How long have you been here? I didn't even know you were here." Each day goes on like any other day with John working hard behind the scenes trying to capture a larger audience of customers.
Before the height of summer in 2011, John's hard work paid off. He was able to secure Soccer Post D.C. as the official supplier to the George Mason University Soccer Programs and Herndon Youth Travel Soccer. These two organizations were crucial in helping get Soccer Post D.C. on the map and solidify itself as a soccer supplier in the Northern Virginia area. Today, Soccer Post D.C. is the supplier for numerous clubs and teams including Southwestern Youth Association and Virginia Soccer Association. The early days consisted of two guys running a simple heat press in a crowded, hot stockroom. Today, three heat presses, more staff and other contractors help support the team side of the business. Many hours go into the team side of the business as it is needed to satisfy the volume side of the business, but it has proven to be helpful on many fronts.
Like all shops, the focus is the environment within the retail area. Customers want to see all the new soccer cleats, balls, jerseys, etc. Customers also want to stop by and chat about the beautiful game of soccer. The customer base is as loyal as any other local shop that has been around for years or decades in Fairfax. There is an ongoing joke that if Soccer Post D.C. had couches and a coffeemaker, they may be as crowded as a Starbucks each day. Soccer Post D.C. has the old school way of providing customer service. The staff has tripled over the past two years and each employee offers something unique to the shop. "The passion that each employee has at Soccer Post D.C. goes much further than just ringing up purchases. They all have a love for soccer and for people.", says Eric Barden, General Manager of Soccer Post D.C. Soccer Post D.C. has truly made its mark within the Northern Virginia soccer community. The credit goes out to the all the soccer fans, players and families who have supported Soccer Post D.C. throughout the last two years. They will also be the reason why Soccer Post D.C. will stick around for many more.