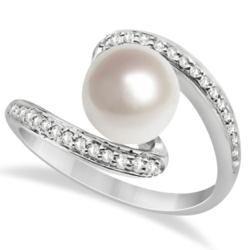 Pearl pendants, diamond accented pearl rings and pearl earrings add a modern look to an old classic.
New York, New York (PRWEB) April 17, 2013
Who says only old fuddy duddies wear pearls? Don't tell that to the throng of celebrities and fashion icons that are enthralled with modern pearl jewelry. From Taylor Swift's pearl stud earrings, to the pearl drops worn by the Duchess of Cambridge, pearl jewelry is making quite a comeback among both the rich and famous and ordinary folks.. Once considered traditional and a bit old fashioned, pearls of all colors, shapes and sizes are gracing runways and office corridors alike.
An Allurez jewelry buyer said, "We watch jewelry trends and make sure to have a selection that provides customers with unique and affordable trend-setting pieces. That's why we have just introduced a complete new collection of pearl jewelry. From grey Tahitian diamond and pearl pendants, to unusual Freshwater cultured pearl earrings and a complete selection of pearl sets, this collection is perfect for a day at the office, a night out on the town or as a bridal accessory for her walk down the aisle."
Pearls are arguably the prettiest part of any oyster. Pearl farmers from far off lands are culturing beautiful pearls from mollusks, adding a bit of nurture to what nature produces naturally. Each pearl carries with it a unique shape, color, size and luster, where no two are alike; making no two pieces of pearl jewelry exactly the same.
The Allurez representative continued, "The pearl is the oldest known gem, with the oldest pearl jewelry found within the sarcophagus of a Persian princess who died in 520BC. Pearls are so unique and unusual; Allurez has created an entire pearl buying guide to add insight to our customers' pearl purchases. Today pearl jewelry takes the mystery and purity of this old gem and twists and turns it, creating truly unique jewelry accessories."
Allurez is an established designer and retailer offering unique pearl jewelry, among their selection of diamonds, precious gemstone and gold and silver jewelry. In addition, they provide an opportunity to create your own engagement ring, choose the perfect prom or bridal accessories as well as birthstone and gift jewelry for all occasions. They are headquartered in New York where they have multiple offices. Their mission is to provide customers with high end jewelry at affordable prices, and to educate the public about the jewelry industry. You can visit them online at http://www.allurez.com
Sources:
http://wwtaylorw.com/style/fancy/
http://en.wikipedia.org/wiki/Pearl