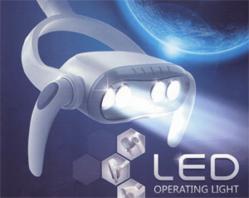 Shangyu, Zhejiang, China (PRWEB) April 18, 2013
Designed to deliver higher illumination for a clear view of tooth topography, DentalLights.com, a professional manufacturer and supplier that specializes in LED surgical lights, introduces its new generation of MD series dental operatory lights which use the cutting-edge LED technology for remarkably improved vision, lower energy consumption and longer life expectancy.
"Most dental professionals, dental surgeons and other dental practitioners would agree that proper lighting is perhaps one of the most important tools for providing high quality dental care. Fortunately new advances in lighting technology have provided better lighting that lasts longer and is more effective for use as dental operatory lights. LED lighting is at the center of these new developments and is revolutionizing the way dental operatory lights are implemented and used," said Mr. Wang Jianjun, the managing director of DentalLights.com.
By taking advantages of LED lighting technology the team from DentalLights.com has made it possible to provide an advanced, affordable, eco-friendly and energy efficient lighting solution for the dental professionals. High quality lighting in the dental operatory environment is crucial to almost all dental procedures. Most dental operating lights on the market have used halogen bulbs which have disadvantages like casting a yellowish light that alters gum and tooth color, generating intense heat because the filament in halogen bulbs must get hot to produce light. Moreover, halogen bulbs are fragile, have a slower response time, and use a lot of energy.
The ML series LED dental operatory lights are packed with features which include precise light pattern, excellent directionality, high brightness, shadow-free illumination, low spectrum damage, and superior ergonomic design. Low heat, no noise, energy efficient, and highly durable, these dental operating lamps are a smart choice for all dental professionals seeking to leverage modern technology to its fullest extent. These unique dental lighting devices are becoming more attractive for mainstream use in dental offices.
DentalLights.com's products accommodate the diversified needs from dentists, dental hygienists, oral surgeons, dental labs, dental offices, and dental equipment manufacturers. The ML-A is an economical lighting solution for those who want high quality dental lighting, while the ML-C6 and ML-C8 brings the highest brightness among the ML series at an affordable cost.
About DentalLights.com
DentalLights.com specializes in LED lighting systems engineered specifically for the dental industry. The company's ML series products provides enhanced performance, extended lifespan over traditional halogen dental chair lights, ceiling lights, and track lights. The company is based in Zhejiang, China. For more information please visit http://www.dentallights.com.