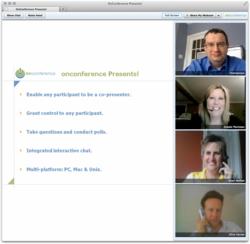 "This is our most requested feature." Jerry Everett
Ottawa (PRWEB) April 17, 2013
OnConference is making sure its customers know their voices are being heard.
The Canadian-based conference call and web conferencing service provider today launched a feature to Presents!, its web conferencing platform.
"OnConference Presents! allows a chairperson to add up to four webcams to a web conference and the video is viewable by up to 25 participants."
"This is our most requested feature," says OnConference President Jerry Everett. "We want to be responsive to our customers' requests and needs as we move forward in the competitive landscape of conference calling and web conferencing."
Everett says the webcam feature adds a personal touch to a web conference or webinar, allowing participants to see who's chairing the meeting and who's speaking. Video from the shared webcams appears alongside each web conference presentation.
"We've given our customers an opportunity to take their web conferencing to another level," Everett says. "They're now sharing ideas face-to-face.
"We all know how body language can affect someone's interpretation of a presentation. Now our customers can enjoy that level of understanding. Imagine being able to see the glee of your company president as he reports positive numbers for the last quarter!"
The webcam feature is optional for participants. They can turn their computer webcams on or off during the presentation.
Customers also do not have to upgrade any software. They only need to sign in to their OnConference account and start a web conference. There is no additional cost to use the Presents! webcam feature.
OnConference was founded in 2002 by Nortel Networks veterans with more than a decade of experience building, supporting and selling telecommunications products to the largest companies in the world. OnConference has provided conference call services to more than 4,000 companies located in 70-plus countries around the world. They are the only conference call company with toll-free access in more than 90 countries, 7/24 operator support and an unconditional guarantee.