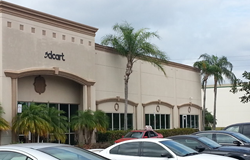 Many people don't realize how easy it is to start an online business," said Joe Palko
Tamarac, FL (PRWEB) April 19, 2013
The event, "Learn How to Sell Online," is free and open to anyone interested in learning how to start an eCommerce business or those who want to take their bricks-and-mortar store online. Veteran eCommerce professionals from 3dCart will explain the steps necessary to start, market and grow an online business. Additionally, attendees will have the opportunity to network with other eCommerce store owners and 3dCart staff following the presentation.
"Many people don't realize how easy it is to start an online business," said Joe Palko, Chief Marketing Officer. "We often find that the fear of technology turns some people away from selling online, but once they see how easy it is to build a store using our shopping cart software, their apprehension turns into motivation."
Those new, or curious, to eCommerce will gain insight into the easy-to-use 3dCart software to build and manage an online store. Current store owners can learn more about growing their business by using some of the built-in marketing features of the 3dCart platform including social sharing, up-sell and cross-sell functionality and SocialCommerce.
"We've seen several people who attended past meetups open a store and become successful," noted Palko. "We encourage anyone who has been thinking about eCommerce, either as a form of supplemental income or as a career, to come over, visit us and learn how easy it is to open an online store."
The meetup will be held on Friday, April 26, 2013 from 4:00 – 5:30pm at 3dCart headquarters located at 6691 Nob Hill Road, Tamarac FL 33321. For more information, or to register for the event, visit http://blog.3dcart.com/upcoming-on-location-meetup-in-tamarac/
About 3dcart
3dcart (http://www.3dcart.com) is the leading ecommerce provider for businesses of all sizes. It helps online businesses succeed by making it easy to build an online store. Its web-based offering provides the most complete set of ecommerce services available, including website building, order management and 3dcart Search Marketing Services. 3dcart serves thousands of customers worldwide and partners with more than 200 of the world's leading online services providers, including payment solutions, shipping carriers and more.
Established in 1997, 3dcart's entire operation - including product development and technical support - is based in Tamarac, Florida. Today, 3dcart is an Inc. 5000 company, a Visa PCI Certified provider and a pioneer in Mobile Commerce and Social Marketing