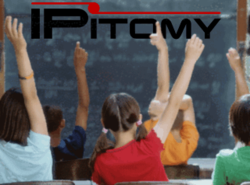 This feature is designed for many businesses where it is possible for a teacher, guest, patient or customer to dial 911
Sarasota, FL (PRWEB) April 18, 2013
IPitomy, a leading communications system provider for business, education, healthcare, and government, has announced the release of an exciting new enhancement that can notify specific management personnel when an extension in the system has dialed 911. The notifications can be sent by any combination of voice, text message and email to immediately notify the management team which extension (room) has dialed 911.
This feature provides instant notification for all appropriate stakeholders. When notified, management can react immediately by taking appropriate action and possibly setting off further emergency alarm notifications, coded alarm notifications or making announcements over the PA system. A complete emergency notification system can be enabled using the IPitomy IP PBX system, as well as normal scheduled based announcements and audible notifications such as school bells and other tones.
IPitomy has developed the system to extend the functionality of its award winning IP PBX Unified Communications system. "With many schools installing IPitomy's systems, it just made sense to add these important notification features to our products," remarked Paul Falanga, IPitomy's IP PBX product manager.
"This feature is designed for many businesses where it is possible for a teacher, guest, patient or customer to dial 911 from within the campus or enterprise complex," stated Nick Branica, IPitomy CEO. "Now management and a safety team can be the first to know if there is an emergency situation and where it is instantly".
IPitomy offers educational facilities package discounts that include the notification options. The packages are designed to reduce the cost of deployment and simplify the management of the system. Whether the system is deployed on site or hosted remotely, IPitomy's IP PBX systems are a great option for organizations that want to stretch their budgets and increase performance.
About IPitomy Communications:
IPitomy Communications is a premier pure voice over IP PBX system that is meeting a market demand internationally for a feature-rich, price competitive Unified Communications Business System. IPitomy designs and manufactures a complete line of IP telephony equipment including IP PBX Systems, IP Telephones, Desktop Call Manager and Call Center Software. For more information visit http://IPitomy.com .
Contact: Paul Falanga
IPitomy Communications
941.306.2233
paulf(at)IPitomy(dot)com
Copyright IPitomy Communications, 2012 All Rights Reserved
# # #