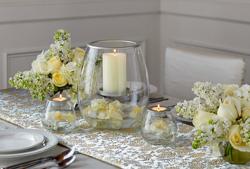 Plymouth, MA (PRWEB) April 23, 2013
If your wedding dreams are big, but your wedding budget isn't, you can still have your dream wedding. Be smart. Get creative! Here are some easy changes to consider:

Buy a great gown at a charity thrift shop – why not?
Keep your caterer, but adjust your menu to more modest choices.
Pass up the pricey photographer, and invite your guests to upload their photos to a shared photo site.
Un-hire the band; hire a DJ.
Cut a smaller "show" cake; serve pieces of a simple sheet cake.
And last but not least, skip the gazillion dollar florist, and create your own centerpieces. Your best friends will help you. You can do it beautifully and practically free with PartyLite.
Famous for platinum quality candles and candle accessories -- including many that hold both flowers and candles -- PartyLite can help you create your own fabulous, can't-fail centerpieces.
"For brides who host a PartyLite party, there are gifts for the wedding party and for guests that are either free or half-price," said Michael Norris, president of PartyLite Americas. "You can afford wonderful centerpieces easily with all of our special discounts for people hosting parties – in a home or online. And if you still have some time before your wedding, you can do even better. Savvy brides-to-be are opening their own PartyLite businesses to earn the extra money they need for the wedding of their dreams."
A little early planning can save hundreds of dollars for a cost-conscious bride. One PartyLite consultant described how one of her best customers called her the moment her daughter got engaged. Mother and daughter picked out candle and flower holders that worked perfectly for centerpieces. Then, the bride, her mom and the maid of honor each hosted PartyLite parties. The bride was able to get most of her centerpieces at no cost, using host credits, and she obtained the rest as half-priced items. They had fun during those pre-wedding weeks, avoided a major florist charge, and created centerpieces the wedding guests found original and charming.
Great choices for bridal centerpieces include GloLite by PartyLite® candles, The World's Brightest Candle™. Unscented, ivory GloLite pillar candles are perfect for creating a gorgeous, romantic glow in the center of each table. Consider the Clearly Creative group of clear glass candle holders for a stunning combination of flowers and candles that your guests will find enchanting. The Symmetry group works beautifully, too. Add just a few floral sprigs and voila! Your centerpieces are simple, stunning and remarkably affordable.
PartyLite is the world's #1 party plan company selling candles, candle holders, flameless fragrance and wax warmers, as well as holiday and home décor, with nearly 55,000 independent PartyLite business owners in 18 different countries. PartyLite ranks # 31 in the Direct Selling News "Global 100 top revenue-generating direct selling companies." Based in Plymouth, Mass., PartyLite is a member of the Direct Selling Association. This year, PartyLite celebrates 40 years as the global leader in its category and 23 years as a member of the Blyth family of companies (NYSE:BTH). For more information, please visit: http://www.PartyLite.com .