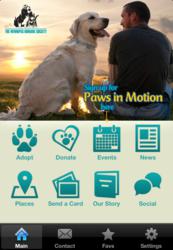 WHS is on the cutting edge of humane societies in Canada in providing both mobile access and services to its supporters
Winnipeg, Manitoba (PRWEB) April 16, 2013
Sparky and Fluffy might not be tech-savvy enough to use a smartphone app, but their owners sure are. The Winnipeg Humane Society (The WHS) is excited to announce the launch of its first application for iPhone users.
The WHS iPhone application was developed to engage Winnipeg's pet lovers on the mobile devices being used most frequently to view their pet listings. Whether it's on the couch, or on the go when you are trying to find a place to take your furry friend for a walk, the application keeps you in touch with the latest from The WHS.
The most engaging feature is the pet postcard feature, allowing users to create their own adopt-a-pet postcard and send it to their friends using their preferred social media network.
Also included in the app are the Winnipeg Humane Societies' event information, donation pages, latest social media feeds and a comprehensive location-enabled directory of adoption facilities, pet-friendly apartments and off leash dog parks.
"Like our pets, mobile devices have become our everyday companions," said Aileen White, Director of Communications of the Winnipeg Humane Society. "With the release of the Winnipeg Humane Society iPhone application, we will be able to engage and provide valuable services to our supporters on an anytime, anywhere basis."
The WHS iPhone application was developed by Purple Forge. Purple Forge is the world's leading provider of mobile applications to associations, governments and non-profits. Mobile applications helps organizations like the WHS to cut down on the amount of printed material they have to develop as well as get interested parties connected with critical, location specific information on-demand.
"WHS is on the cutting edge of humane societies in Canada in providing both mobile access and services to its supporters," said Brian Hurley, CEO of Purple Forge. "This mobile application will allow them to encourage greater participation and awareness of their activities in their community, which will benefit of the animals they work so hard to protect and provide safe homes for."
This free app is available for download in the iTunes App Store or by visiting The WHS website.
###
About The WHS:
The Winnipeg Humane Society is a registered charity and non-profit organization whose mission is to protect animals from suffering and to promote their welfare and dignity. Funded primarily by donations, memberships and bequests, The WHS also adopts cats, dogs and critters. All adoptable pets have been spayed or neutered, a health check, and a behavioural assessment. http://www.winnipeghumanesociety.ca