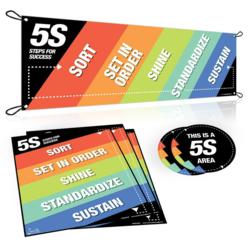 "The posters and banners are a great way to remind employees about the 5 steps in a 5S program. Since displaying them, we have seen great improvements in achieving a well maintained workplace."
Lake Oswego, OR (PRWEB) April 18, 2013
The 5S philosophy focuses on effective workplace organization and standardized work procedures. 5stoday.com is now offering a 5S Awareness Package that will help keep 5S methods at the forefront of employee's minds.
The Awareness Package includes a 3' x 8' heavy duty banner that references the five elements of the system: Sort, Set in Order, Shine, Standardize, and Sustain. Also included are three 22" x 28" wall posters that again reference the five steps of 5S. And last but very important are two 12" heavy duty floor signs that can be used to designate a 5s area. The multi-bold colored banner, posters and signs are a great addition to any 5S program and are easy to see.
One of the first steps in a 5s program is Sort. The focus is to remove all unnecessary items from the workplace and move them to a designated location for further determination of each item's outcome. The package includes two floor signs indicating the specific area is a 5S area and only items are to be stored within that area for further consideration.
After training and implementing a 5s program within the workplace, employees will learn about reducing waste and improving efficiency, quality, and employee safety but they may not always remember what the 5 steps were to achieve these goals. By displaying banners and posters that capture these steps, employees will be mindful of what is required to effectively reap the benefits of a 5S program and maintain it.
A business owner commented, "The posters and banners are a great way to remind employees about the 5 steps in a 5S program. Since displaying them, we have seen great improvements in achieving a well maintained workplace."
For more information about 5S Awareness Package, please visit http://www.5stoday.com or call toll-free (866)402-4776 to speak with a professional representative.