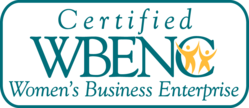 Bethesda, MD (PRWEB) April 18, 2013
CME Outfitters (CMEO), a leading accredited provider in continuing medical education, is proud to announce that it will continue to hold its status as a Women's Business Enterprise (WBE).
The Women's Business President's Educational Organization (WPEO) has granted CME Outfitter's WBE and Women Owned Small Business (WOSB) certification through April 2014, under the criteria and guidelines established by the Women's Business Enterprise National Council (WBENC). WBENC is the largest third-party certifier of businesses owned and operated by women in the United States. For more information about WBENC please visit http://wbenc.com/.
"It is such an honor to be recognized as a Women's Business Enterprise and Women Owned Small Business by the WBENC. We look forward to collaborating with organizations and bringing the diversity, perspective, and skill sets of CME Outfitters to new business and government contracting opportunities," said Jan Perez, CCMEP, CMEO Managing Partner.
Criteria for WBENC certification include:

Applicant company must be at least fifty-one percent (51%) owned and controlled by one or more women who are U.S. citizens or lawful permanent residents, or in the case of any publicly-owned business, at least fifty-one percent (51%) of the equity of which is owned and controlled by one or more women who are U.S. citizens or lawful permanent residents; and,
Whose management and daily operation is controlled by one or more of the women owners.
WBENC uses a two part process to ensure that the applicant company meets the WBENC Standards. This will include a thorough review of the documentation presented and a site visit interview with the female owner(s).
As a WBENC certified organization, CMEO receives benefits of access to diversity and procurement executives at U.S. corporations and government entities, capacity development including access to mentoring and education, recognition and promotion opportunities through the WBENC, women business advocacy, and WBENC community support. Please visit the WBENC website to learn more.
About CME Outfitters, LLC
CME Outfitters develops and distributes live, recorded and web-based, outcomes- and evidence-based educational activities to thousands of clinicians each year and offers expert accreditation and outcome services for non-accredited organizations. CME Outfitters focuses on delivering education to specialty audiences, with strong expertise in neuroscience, inflammatory, infectious, and autoimmune diseases, and cardiovascular disease. For a complete list of certified activities and more information, visit http://www.cmeoutfitters.com or call 877-CME-PROS (877-263-7767).
"CME Outfitters …
Improving Clinical Behavior … One Change at a Time"