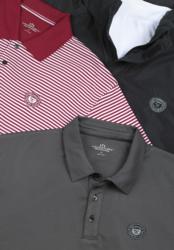 Eric Eder, National Sales Manager for Vantage Golf, commented, "Our goal with this release is to introduce more exciting performance fabrics and fashion colors in the price range that buyers are used to seeing from Vantage."
(PRWEB) April 22, 2013
Avenel, New Jesey: Vantage Apparel, a brand known primarily for its basics and private label programs, has recently expanded its fashion offering with the release of merchandised golf apparel color story collections. The company's new collections promote more color choices across all categories, including performance golf shirts, active pullovers and lifestyle pieces in casual button-down shirts and sweaters.
Amidst the seven different color stories, Soho Views mixes Crimson, Black and White for an edgy, sophisticated feel, Ulawun Eruption uses Purple combined with Black and Dark Grey for a sleek look and Lanai Nights provides bold options with bright colors such as Orange and Royal . Key apparel items in the assortments are a new Club Stripe Performance Polo, a sophisticated two-tone Nail Head Patterned Polo and a Three-Color Textured Stripe Performance Polo all made in the company's signature moisture management fabric, Vansport™. In addition to printed brochures, an interactive color search page is available for customers on the company's new website, vantage77.com.
Vantage has been a major player in the Golf Market since 1991, providing many of the country's leading pro-shops with much more than just another apparel collection. The industry's leading source for event business, basic programs and staff uniforms, Vantage currently delivers unique apparel opportunities for more than 1500 top pro-shop accounts and its products are worn at major golf tournaments and events nationwide. Private label and custom apparel programs let customers create unique product and branding.