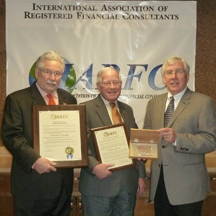 The industry is in good hands based on the participants of the IARFC Plan Competition." -- David Stitt, CLU, ChFC, CFP®, RFC®
Middletown, OH (PRWEB) April 23, 2013
As an educational exercise, college students enrolled in financial services curriculum across the country were invited to participate in the Financial Plan Competition. Students were asked to produce a comprehensive personal financial plan based on a fictional case study with uniform sample data provided in a rough narrative format.
A team of professionals led by veteran financial advisor David M. Stitt judged the plans and selected three semi-finalist teams. These semi-finalists were invited to present their plan to the panel of judges with the winner being selected from this final group. The results are:
First Place - Utah Valley University: Students led by Dr. Jerry Mason: Bradley R. Boulton, C. Clark Harris and Nick Trovato
Second Place - University of the Incarnate Word: Students led by Dr. Alicia Rodriguez de Rubio: Cristal Gonzales, Jazmine Ramirez and Felipe Villarreal
Third Place - Bowling Green State University: Students led by Professor Matthew Garrow: Susan Lang and Lauren Little
"It is refreshing and encouraging to witness the inheritors of the financial planning industry. All submitted plans showed hard work and the finalists were of outstanding quality and detail," reported Stitt. "Those who will follow us are informed, intelligent, innovative and industrious."
The universities will receive a plaque in recognition of a winning plan submission, forwarded to the president of each university so that further appropriate recognition may be given on a departmental level. Every student will receive a certificate of participation that may enhance their resume package as well as their new office wall as they enter the profession.
The IARFC is appreciative to Cetera Advisor Networks, specifically CEO Jack Handy, Jr., El Segundo, CA and President/CEO Brett Harrison, Denver, CO for their sponsorship of the 2012-2013 Competition. Chairman Ed Morrow acknowledges their investment, "Cetera has made a significant contribution to the profession through its sponsorship of a critical element in financial services - the preparation of high quality comprehensive plans."
A call for participation has gone out to students and professors for the 2013-2014 Competition. For more information, visit the Financial Plan Competition page on the IARFC website.
.