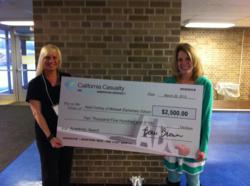 This Academic Award is just one more way to say that we recognize and appreciate everything educators do, and we want to make it just a little bit easier for them."
San Mateo, CA (PRWEB) April 18, 2013
Heidi only vaguely recalls filling out a form to be considered for the Academic Award, but she was thrilled to accept the check from California Casualty. Fortney has never taught anywhere but at Mohawk, and only kindergarten. This is her 12th year. Her husband is also a kindergarten teacher there. They routinely spend out of pocket to ensure their students and classrooms are equipped for learning. How much? "Thousands," she said.
Now she gets to contemplate how far she can stretch $2,500. "We've got four really old computers. Maybe I'll replace them with four iPads. Or maybe some scissors, glue, and pencils. You can never have enough of those," she added with a chuckle.
As education budgets continue to get chopped, educators often spend personal funds to cover the costs of classroom materials and supplies. A recent survey by AdoptAClassroom.com revealed that 91 percent of teachers report buying not just school supplies, but also food and personal care items for their students.
California Casualty, which has 62 years of ties to public education, wanted to give at least one educator some relief – and to thank him or her for the dedication and sacrifice made daily on the job, said Senior Vice President Doug Goldberg. The Academic Award contest was launched late in 2012 and because response was so strong, the company decided to make two additional awards later this year. "Educators are usually our first heroes out in the world – even if we don't realize it until later," Goldberg added. "It's good to be able to give back to them."
K-12 public school educators can review complete rules and enter the Academic Award giveaway at http://www.calcasacademicaward.com. Eligibility requires membership in the NEA, CTA or AEA.
California Casualty is a 99-year-old policyholder-owned company headquartered in San Mateo, CA with service centers in Arizona, Colorado and Kansas. Learn more about its auto and home insurance for firefighters, peace officers, educators and nurses at http://www.calcas.com.