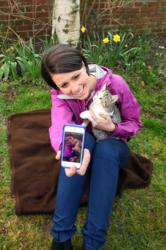 (PRWEB UK) 17 April 2013
- Half of pet owners would rather hug their pet than a child, parent or sibling when feeling low

One in five have cancelled social plans to be with their pet
A third of UK pet owners spend up to 30 days a year caring for their pet
One in five pet owners regularly use Facebook or Twitter to share their pet pictures and videos
One in ten people have taken their pet to special occasions such as christenings or weddings
43% of pet owners have re-homed a rescue centre pet or taken in a stray
Britons prefer cuddles with pets over children, cancel social plans to be with them and spend hours every week uploading their pictures to social media sites according to the findings of a UK Pet Census.
The UK's first Pet Census was commissioned by http://www.mysocialpetwork.co.uk as part of National Pet Month. A cross section of UK pet owners were questioned to uncover ownership habits and the lengths that we will go to for our furry (and not so furry friends).
A quarter of UK pet owners (24%) admit that their pet is more like a child to them than a pet, while 15% say that their pet is someone that they talk to and confide in with their problems. Half of pet owners would rather hug their pet than a child, parent or sibling when they feel low.
Although rats may be scary to some, 83% of rat owners chose a rat to help them relax. Reptile owners seek companionship from their pets; one in five chose a reptile to stop them getting lonely. Dog owners are most likely to go to their pet for a cuddle (59%), whereas 67% of horse owners questioned would choose to give their equine friend a hug when in need of comfort.
Not only do Britons go to their pets in times of need, they like to tell the world about them too. One in five pet owners regularly use sites such as Facebook or Twitter to share their pets' cute pictures, videos and exploits, with one in ten doing so at least once a week. Facebook is the most popular social networking site for pet owners. 38% of dog owners who post updates to social media have a Facebook account especially for their pooch.
The findings also revealed how high up spending time with our pet is in our priorities. One in five people have re-arranged social plans to spend more time with their pet, 7% of owners have even cancelled a date and 4% have called in sick to work.
One in ten people have taken their pets to special occasions such as christenings and weddings so they don't feel left out, while 1 in 10 have left a special occasion early to get home to their pet. Many of us can't bear to be parted from our pets during the working day, with 8% regularly taking their furry companion to work.
Britiain is a compassionate nation according to the Pet Census findings, and 43% of pet owners have given a home to a rescue centre pet or have taken in a stray. Horses (63%), Cats (57%) and Guinea Pigs (53%) are at the top of the re-homing list consecutively. One in five people have taken in a pet from a friend.
Commenting on My Social Petwork's findings, Emma Milne, TV vet and pet expert, said: "It is no secret that we are a nation of pet lovers but it is overwhelming to see just how far people in the UK go to make their animals an integral part of their day-to-day life."
"As a vet and animal welfare spokesperson it is extremely heartening to see the lengths that people go to ensuring that our pets are well cared for and looked after. Everyone must be aware of the responsibility they are taking on when they choose to own any pet - whether that be a dog, cat, guinea pig or fish - and the results of the census shows that the majority of pet owners in the UK are doing a fantastic job in providing their pet a healthy and happy life by putting their pets first."
The UK Pet Census was collated to mark the launch of http://www.mysocialpetwork.co.uk, the UK's first social networking site dedicated to all pets. Luke Patten, Chief Executive of Pep Publishing which owns My Social Petwork, said: "The census findings have firmly cemented the fact that not only do we go the extra mile for our pets, we love sharing sharing their exploits online for the world to see."
"My Social Petwork is the UK's first social networking site to give pet owners of all breeds and species the chance to come together in one place to share their pictures, videos and updates and make friends with other like-minded pet owners."
My Social Petwork has joined forces with re-homing charity Society for Abandoned Animals to profile pets looking for a new home via http://www.mysocialpetwork.co.uk during the launch month. The charity also offers people the opportunity to socialise with pets as volunteers at its farm and is fundraising to build pet therapy facilities.
Natasha Woest from Society for Abandoned Animals said: "I am not surprised that people in the UK are turning to their pets in times of need, we have seen first hand the therapeutic benefits spending time with a pet can bring.
"As a rescue centre we work with the wider community to re-home animals and educate people of all ages about all aspects of caring for pets, as well as giving people the opportunity to socialise with our animals. It is reassuring people are increasingly turning to rescue centres to give a pet a home in a responsible way."
-ENDS-
Research conducted with a cross section of 1,124 pet owners by Opinion Matters on behalf of http://www.mysocialpetwork.co.uk, March 2013. Visit http://www.mysocialpetwork.co.uk for more information.
For more information please contact Kate Williams or Louise Woodward on 0161 8391986 or kate(at)smokinggunpr(dot)co.uk / louise(at)smokinggunpr(dot)co.uk