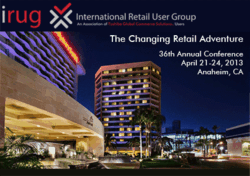 Mr. Miller will participate in a panel of experts titled Landscape of Mobile Payments, which also includes speakers from Google, PayPal and Safeway.
Sarasota, FL (PRWEB) April 17, 2013
MobileBits (OTCBB: MBIT) is pleased to announce that Dan Miller, Chief Revenue Officer, has been invited to speak at the 36th Annual International Retail User Group Conference, an association of Toshiba Global Conference Solutions, on April 21st through 24th in Anaheim, CA. The long running conference is the pinnacle event for IRUG, described as the "most important retail event of the year". IRUG brings together thought leaders from across the retail landscape to share, learn and present the latest advancements in retail technology solutions. This year's conference theme, "The Changing Retail Adventure", and agenda is focused on: mobile payments, big data, omni-channel, specialty retailing, mobile POS solutions, EMV, changing supermarket, and tools to captivate the increasingly mobile and technologically savvy customer of the 21st century.
Mr. Miller will be the lead presenter in two sessions named: The Mobile Mall — Put Your Store in Customer Hands and The Changing Supermarket. He will also participate in a panel of experts titled, Landscape of Mobile Payments, which also includes speakers from Google, PayPal and Safeway.
"IRUG, and their annual conference in particular, has continually pushed the boundaries of retail technology and I'm looking forward to joining those discussions this year," said Mr. Miller. "It's quite an honor to be included in several of the panels and speaking opportunities with some of the largest retailers in the country."
IRUG, in partnership with MobileBits, has completed a survey of the top 100 retailers in the United State on the topic of EMV and Mobile Strategy for your company. The results of the survey will be referenced in conference topics and published after the 36th Annual IRUG Conference. However, MobileBits will release a portion of the survey results related to mobile marketing next week. The objective of the study was to determine the strategy and priorities for the IRUG retail community with regard to mobile marketing and payments. The study indicated some key results relating to retailers preparedness for the "Changing Retail Adventure".
To learn more about the award-winning SAMY mobile marketing solution, visit http://www.samy.net.
To learn more about the IRUG and the annual conference, visit http://www.ibmretailug.org.
About MobileBits™
MobileBits, provider of SAMY, the fast growing 'Mobile Mall' that enables any merchant, retailer or brand to connect with mobile consumers in their local area through various touch points and helps increase sales. The solution provides businesses with a complete set of tools to create and manage mobile campaigns, including deals, offers, loyalty and rewards with a subscribed mobile consumer. MobileBits operates offices in Los Angeles, Sarasota, FL and Zurich, Switzerland. For more information, visit http://www.mobilebits.com or http://www.samy.net.
For more information contact:
Media:
Brian Ehrlich
MobileBits Corp.
T: 941.225.6103
brian(dot)ehrlich(at)mobilebits(dot)com
or
Investor Contact:
MBC Investor Relations
ir(at)mobilebits(dot)com