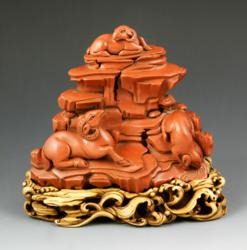 Beverly, MA (PRWEB) April 23, 2013
A Chinese golden star glass mountain reached a record-setting price of $65,520 last month at Kaminski Auctions' Fine Asian Art and Antiques Auction in Beverly, Massachusetts. The auction hall audience and staff watched as the bidding for the golden star glass mountain climbed well above the original estimate of $12,000 to finally settle at a record-setting $65,520. The mountain had a Qianlong mark and was carved in the form of three rams on a rocky outcrop and set on a huanghuali wood stand. It came to Kaminski Auctions from the collection of a Boston College Professor and stood only 6 ½ inches tall.
Despite the small scale of the mountain, the piece carries great historical significance and auspicious meaning. "Golden star glass" was a form of glass making newly developed in the eighteenth century, when artists added gold dust to give the glass its entrancing shimmer. Research done prior to the sale at Kaminski Auctions indicates that only one other starry glass mountain in this form has been sold at auction. The three rams that surround the mountain are known as sanyang and indicate that the New Year will bring a change of fortune.
With the closure of this record creaking sale Kaminski Auctions lokks forward to its next Fine Asian sale scheduled for June 22nd, 2013.
Kaminski
Kaminski Auctions, located on the North Shore of Boston, has been serving the New England antiques market for over 25 years as a full service auction house and appraisal service for fine art, antiques and estates.
With two locations in Beverly, Massachusetts, including a new state of the art auction gallery located at 117 Elliott Street, and a historic 1850's barn and office facility at 564 Cabot Street, Kaminski Auctions hosts 25 auctions a year.
In today's highly competitive market of fine art and antiques, Kaminski Auctions provides its customers with bicoastal services and marketing with west coast offices in Beverly Hills and San Diego, California.
Kaminski Auctions offers specialty departments in Asian Art and Antiques, Silver, Glass and Lamps, Couture and Vintage Clothing, Photography and Modern Design. We have highly trained and knowledgeable appraisers on staff that will help you determine the true value of your antiques or entire collections. Free appraisal days are offered every Tuesday from 10:00am-4:30pm at our 564 Cabot Street location in Beverly, Massachusetts and our 5171 Santa Fe Street location in San Diego, California. We welcome emailed photos of your items.
Contact Harry Morgan - hmorgan(at)kaminskiauctions(dot)com