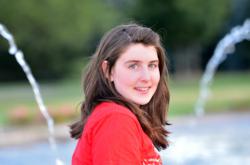 ...youthfulness should not be an excuse for ineffectiveness.
Chesterfield, MI (PRWEB) April 22, 2013
Jacquelyn Eubanks, best-selling author of The Last Summer was selected to receive the Timothy Award by Archdiocese of Detroit. Ms. Eubanks and other students were selected as recipients for demonstrating 3 characteristics: Leadership, Service and Commitment.
The Timothy Youth Appreciation Certificate was initiated to recognize the importance and effectiveness of the contributions made by teens despite their young age. Sporting and academic achievements play no part on the selection of the recipients. This recognizes high school teens for Leadership, Christian Service, and/or Commitment in at least one or more of the following areas: Parish, Family, Civic Community, and School Community.
This prestigious award, to quote Laura Piccone Hanchon of the Archdiocese of Detroit, "Real leadership abilities are sometimes buried within a person. It takes someone with understanding and patience to uncover those skills. This is what happened with St. Paul and a young man named Timothy. The apostle, Paul wrote to Timothy that youthfulness should not be an excuse for ineffectiveness. Paul's writing to Timothy (found in St. Paul's letters in the New Testament: 1 Timothy 4:12), 'Let no one look down on you because of your youth, but set an example for those who believe, in speech, conduct, faith and purity' echoes throughout all of the young people we have nominated because they display leadership, commitment, and/or Christian service to our communities."
In addition to The Timothy Award, Ms. Eubanks is a 2012 USA Book News Award Finalist and her first novel, The Last Summer is a Best Seller. She is a member of Girl Scouts (Senior), member of the National Honor Society, member of the Enterprise Club and plays softball and basketball for Cardinal Mooney High School. Her second novel, The Last Time is anticipating a summer 2013 release.