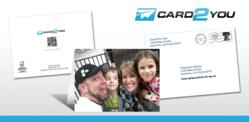 Simply the highest quality printed photo or occasional greeting cards.
Fullerton, CA (PRWEB) April 18, 2013
In a virtual sea of mobile applications, useful and simply fun utility applications are few. There's always the exception...
Advanced Image Direct (AID), a large direct mail provider, has found success with its first effort into the exploding mobile applications market via "Card2You". Card2You makes it easy to generate printed, folded 5" x 7" greeting cards in personalized envelopes directly from a mobile device for as low as $1.66 domestically and $2.66 anywhere else in the world beginning in May. If only sending one in the U.S., just $1.99.
The application is a free download on iTunes and Google Play. In late April, Card2You is releasing on Blackberry's BB10 platform as well, introducing the Card2You application to their 75+ million customers worldwide. Card2You is also being utilized in partnerships with large corporations via the application's unique branding, advertising and reporting capability.
The applications features are numerous, yet the interface is simple by design. Users can mail photos or any creative output in a photo library. There's also an option to select from a creative catalog of designs with auto-personalization and contact merge features not seen in desktop applications. Users can even mail invitations for holidays, parties and events. The invitation interface is much like online email invitation sites, only the output is physically mailed and the print quality is what has customers coming back for more.
Card2You is a perfect complement to the hundreds of photo manipulation applications available today, or for just simply sharing those special photos from a smart phone. With Card2You, this relatively new market now has a high quality output vehicle for printing and sharing unique creativity offline with others.
Usage volumes and demographics show that physical greeting cards are still viable and rise above the static of electronic messaging. Now with the ease of Card2You, the old adage of "it's in the mail" applies to a new generation and with a positive reward to the recipient.
About AID
Advanced Image Direct (AID) is a world-class, highly secure direct mail & print manufacturing facility as well as one of the largest physical DM plants in the western United States. Located in Fullerton, California, AID produces several millions of pieces of mail per week on a diverse range of imaging and production platforms for Fortune 100 companies nationally.