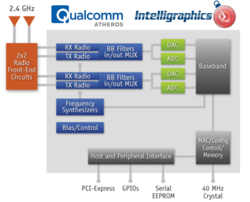 "Our longstanding relationship with Qualcomm Atheros and the engineering expertise in our US and Bangalore Wireless Design Centers, allows us to supply the highest quality products and unmatched services at the best price."
Richardson, TX (PRWEB) April 18, 2013
Intelligraphics offers a blend of innovative, high performance, custom products, off-the-shelf drivers and customization services specifically designed to expedite the delivery of the highest quality products to the marketplace at the lowest possible cost.
First Class Qualcomm Atheros Third Party License Agreement (TLA) Services
Intelligraphics delivers First Class TLA service with quick turnaround and solid answers to any engineering question. Our dedicated, secure web portal provides individual access to licensed source code, schematics, and cad files for PCB layout of reference boards and complete documentation for the full line of QCA products.
Off-the-Shelf 802.11a/b/g/n Drivers for Qualcomm Atheros WI-FI Products
Intelligraphics provides many off-the-shelf QCA drivers for key operating systems including Windows, Linux, Android and Windows CE/Embedded/Mobile. We also offer Linux software for APs and Routers.
Qualcomm Atheros AR4100 Low Power
Intelligraphics is the only ADC to offer designs for the AR4100 and AR4100P that support SUPERLOOP architecture with no operating system needed. Our latest solution supports the widest variety of micro-controllers in both low power and low memory configurations including TI MSP430, Atmel AVR32, ST Micro STM32 and Renesas Chipsets. Intelligraphics also provides optimized feature enhancements to the base driver from QCA with support for OTA - Over The Air firmware upgrade and OTC – Over The air Configuration.
Windows CE 6.0 Wireless LAN device driver for 802.11N Qualcomm Atheros Chipsets
Intelligraphics now offers a Windows CE driver for Qualcomm Atheros AR9160, AR9220, AR9223, and AR9280 chipsets. The driver is fully compatible in a, b, g and n modes for PCI, Mini PCI and PCI Express interfaces. Intelligraphics is also the first to offer a WinCE driver solution with AMPDU aggregation, 2x2 chain support, and Block ACK in 11n mode. Supported security protocols include WEP 64/128, TKIP, WPA, WPA2 PSK, and WPA 802.1x.
"Our 15 years of WI-FI experience in PC and embedded driver development, enable us to harness all of the features included in any QCA Chipset to power innovative new wireless designs with optimal performance and the best possible power utilization." said Intelligraphics' president Scott Lawson.
Recognized as an industry leader for over 20 years, Intelligraphics' engineering team provides a variety of expert hardware development, driver and firmware development and system integration services to a worldwide customer base. Intelligraphics offers significant expertise in a variety of real-time operating systems and hardware technologies. Specialties include USB, Audio, 2D and 3D Graphics, and WI-FI driver development. Intelligraphics is a Microsoft Certification Test Facility with offices in Richardson TX and Bangalore India.
Intelligraphics will exhibit its IGXline of innovative new products and services at Design West in San Jose, CA April 23-25 in booth 734. Director of Engineering, Robert Manley will be present to discuss time tested methods for getting hardware and software products to market "On Target, On Time".