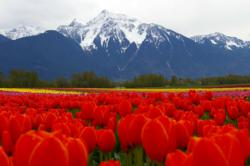 Vancouver, British Columbia (PRWEB) April 23, 2013
Spring has definitely sprung in the Vancouver, Coast & Mountains region of British Columbia and there's no better way to embrace the season than with a visit to the Agassiz Tulip Festival.
Located just a 90 minute drive from the city of Vancouver, the Tulip Festival began on Saturday, April 13 and runs until the end of the month. Unlike 2012, when the tulips were late arriving because of an unseasonably cold spring, this year, thanks to the warm weather, the tulips started to bloom early. Even more exciting, warm weather equals more blooms and currently about 2/3 of the fields are in full bloom.
Visitors are welcome to tiptoe (or just stroll) through 40 acres of locally-grown tulips with the nearby snow-capped mountains providing a stunning backdrop for the brightly coloured fields. Also available to visitors is the opportunity to purchase tulip bulbs and fresh-cut tulips at the Tulip Stand located at 1694 Tranmer Road in Agassiz. The stand is open from dawn to dusk daily until Mother's Day (May 12).
The festival is organized by local Agassiz greenhouse, Tulips of the Valley, and they set themselves apart by specializing in growing their own tulip bulbs and lilies rather than importing them from Holland. As a result, all the tulips on display at the festival come from Canadian-grown bulbs!
For more information about the Agassiz and Harrison Hot Springs area, including special hotel deals, visit the Tourism Harrison Hot Springs website. For the latest updates about the blooms, visit the Tulips of the Valley website.
----------
About Vancouver, Coast & Mountains: Vancouver, Coast & Mountains, one of six tourism regions of Super, Natural British Columbia, includes four destination areas: Metro Vancouver, Sea to Sky Country, Mighty Fraser Country, and the Sunshine Coast. This non-profit society is governed by a private sector board of directors who represent business and community tourism interests from throughout the region. VCMBC works with Destination British Columbia to utilize their combined resources and provide greater benefits to the provincial tourism industry through an integrated web presence. For more information about Vancouver, Coast & Mountains visit our website or call 604-739-9011