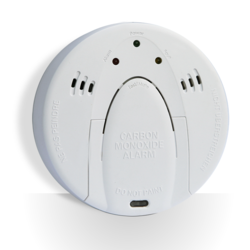 Carbon monoxide poisoning leads to hundreds of deaths and thousands of emergency room visits every year. With the Carbon Monoxide Detector, SimpliSafe aims to protect homeowners everywhere from this deadly threat.
Cambridge, MA (PRWEB) April 22, 2013
Announcing the latest, long-awaited addition to the SimpliSafe Home Security System — the SimpliSafe Carbon Monoxide Detector. Everyone knows about the dangers of fire, smoke, and home invasion, but fewer people are aware of the very real threat posed by carbon monoxide. Called the "silent killer" — because it is colorless, odorless, and tasteless — carbon monoxide is produced by incomplete combustion in devices that burn carbon fuel. Because the symptoms of carbon monoxide poisoning are difficult to distinguish from other conditions, like the flu, carbon monoxide exposure is often misdiagnosed. Even still, confirmed cases lead to about 500 deaths and 15,000 emergency room visits per year in the United States, making it the nation's most pervasive poison. With the Carbon Monoxide Detector, SimpliSafe aims to protect homeowners everywhere from this deadly threat.
There are a surprising amount of potential sources of carbon monoxide in every home, including gas-powered furnaces, unvented space heaters, leaking chimneys, vehicle exhaust, and portable generators. The SimpliSafe Carbon Monoxide Detector contains a time-weighted alarm that keeps track of the presence of carbon monoxide and warns the homeowner if it reaches a certain cumulative concentration. The detector sounds an internal alarm to spur people out of danger, and also alerts the 24/7 monitoring center, which will send emergency responders to make sure everyone is safe. Carbon monoxide monitoring is included in SimpliSafe's $14.99/month no-contract monitoring plan.
Experts recommend that homeowners place a carbon monoxide detector outside of each bedroom, as most CO poisoning occurs when people are sleeping. They also recommend placing a detector on every level of the home, because by the time the gas diffuses between floors, it may have already done damage. In order to enable customers to follow these recommendations, SimpliSafe carbon monoxide detectors are priced at an affordable $49.99 — half the price charged by other alarm companies. Like all SimpliSafe sensors, the Carbon Monoxide Detector is wireless and easy to self-install, and can be fully integrated into the SimpliSafe system. SimpliSafe Carbon Monoxide Detectors are sold directly to consumers online. For more details and a lineup of all available sensors, visit http://simplisafe.com/home-security-shop.
About SimpliSafe Home Security
SimpliSafe is a simple, secure and complete do-it-yourself security system. Using entirely wireless, cellular components, the alarm system can be easily customized and installed by a homeowner or renter. SimpliSafe Home Security also provides nationwide alarm monitoring services for their wireless security systems.